I often receive many questions regarding French for beginners. Some people say French is hard, while others say they can understand it if they see it written but can't speak it or understand it when they hear it. Grammar and pronunciation are other common struggles for beginners as well.
A new language can be intimidating, especially if it's too different from your native language. Where do you start? What should you do? What should you NOT do? What is the best way to learn it? How long will it take you?
There are so many questions, but luckily, there are answers to all of them. Today I will share with you some tips for beginners in French. It's not that hard if you follow a few simple tricks. Allons-y!
Focus on Pronunciation
Just like any kid learning to speak, you will have to learn new sounds. Some French sounds don't exist in English or other languages. Take the u and an/en sounds as examples. It takes some time to master them, but once you do, you will be on the other side.
For starters, learn the French alphabet. Memorize each letter along with its pronunciation. Practice, rinse and repeat. Remember practice makes perfect.
The alphabet is the foundation of any language. Focus on this, and in no time, you will be able to start learning harder things. If you don't master pronunciation in the beginning, you will struggle to understand French speakers down the road. There's no turnaround to this.
Learn Basic Vocabulary
Once you master French pronunciation, the next step is learning some basic vocabulary. Think numbers, colors, members of the family, articles, foods, and a few verbs like be, have, etc.
You can learn vocabulary in many ways. There's the traditional flashcard approach. I know people who still use this method, and they say it helps them a lot. You can write words on sticky notes and put them on different objects. In no time, you will familiarize yourself with each object.
The more vocabulary you have, the easier it will be for you to express your ideas.
Learn to Conjugate Verbs
Probably, the most common French verbs are être (be) and avoir (have). Not only are they used alone but also in conjunction with other tenses.
French verbs are a little bit more complicated than English verbs, but the more you practice them, you will notice that they follow a pattern. Once you understand this, you will be able to conjugate verbs to express your ideas in the past, present, future, etc. However, I strongly recommend you focus on present verbs first as they're easier to learn and then switch to other tenses.
Read Kids' Books
As I mentioned earlier, when we learn a new language, we're like little kids trying to learn how to speak. From this perspective, it makes sense to consume material catering to kids.
I know what you may be thinking. You're not a kid. But there's nothing embarrassing about this. Always have your goal in mind. There is always more than one way to accomplish things.
If you focus on beginners' materials (which you should when starting), your materials will probably overlap with those kids use to learn.
I'm not talking necessarily about grammar books but short stories and the like. This is a good way to start building some vocabulary and getting used to the language.
Play Games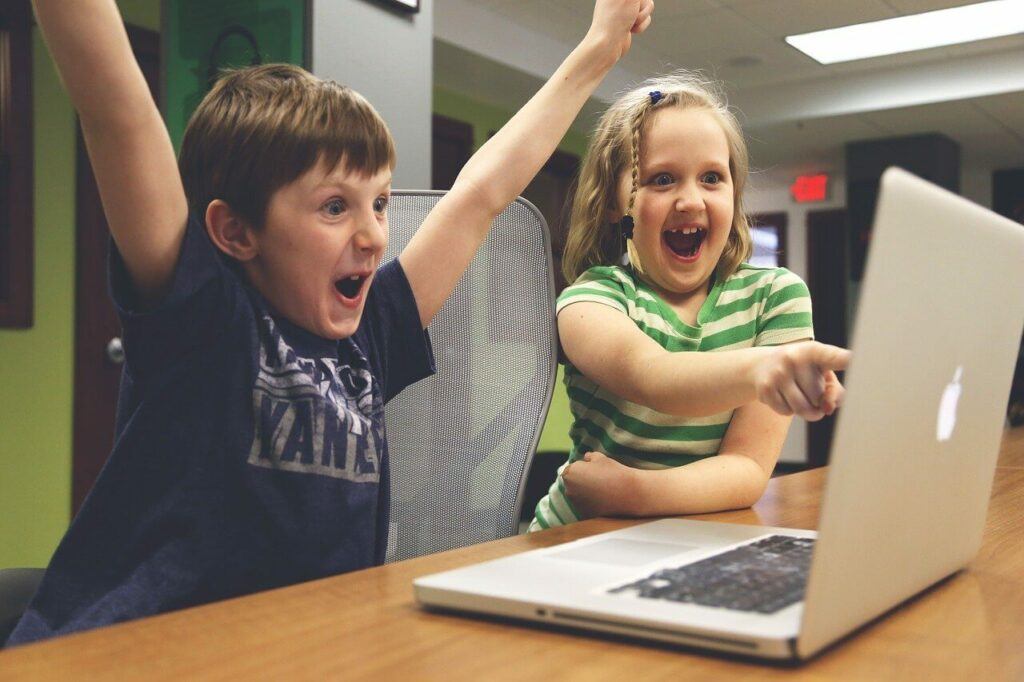 They say boys will always be boys, right? Well, there's some truth to that. No matter how old we are, playing games can be a good way to do something new, including speaking a new language.
There is a myriad of apps online for both iOS and Android to choose from. You have probably heard about Duolingo or Memrise. If you haven't, I recommend you check them out and see if they work for you. There are way many more, but these are some of the most popular.
The good thing about all this is that most apps are interactive and are not necessarily games per se. However, they're an excellent alternative to the traditional, boring lessons students used to take at school.
Find a Language Exchange Partner
Some people would not consider looking for a language exchange until they're at an advanced level, but why would you wait until then? In theory, this sounds like a good idea, but in practice, you will find a language exchange partner is of great help regardless of your level.
For the exchange to be effective, though, you need to find someone who is at the same level as you. That is the key. It doesn't matter if your native language is English, German, or Chinese. As long as your partner is a native French speaker and a beginner in your native language, you're good to go!
You might even make a few friends from these conversations. I know from experience.
You can try sites like Conversation Exchange or Tandem.
Take French Lessons
If you're serious about learning French, your best option is to take French lessons. Try looking for Alliance Française schools, but if there are none in your area, there is probably another language school you can attend.
By taking classes, you will be able to interact with others, get corrected when making mistakes, and ask questions when necessary.
You can even take private lessons from home, and they're not that expensive. Many French teachers offer free trials so you can test the waters. Give it a try.
Learning from a teacher has many benefits and will certainly give you an advantage over others. You can study with a teacher until you reach an intermediate/advanced level, and then you can continue on your own.
Be Realistic
Learning French is like dieting or working out. You won't see any results if you don't practice. You don't have to study for hours every day. Twenty or thirty minutes a day is enough. As long as your practice every day, you will improve your French.
Setting goals is also important. However, your goals have to be reasonable. According to a study, it takes an English speaker around 600 hours to speak French proficiently. While you can reach this level in as little as six months, it will depend on how much time you dedicate to it. Just do the math and set goals accordingly.
Think of French as a journey. Enjoy every single stage you go through, and the process will be much better.
Conclusion
I hope these French for beginners tips help. Try to follow the tips and see which ones work for you. Once you find what works for you, stick to it and practice every day.
Have you followed any of the tips mentioned above? Which ones would you add to the list? I'd love to know.
As always, feel free to leave your questions and comments in the section below, and I will be more than glad to get back to you as soon as possible. Au revoir, les amis!
Let's Learn French!

Are you ready to take your French to the next level? I'm glad you are! Whether you are a beginner or an intermediate/advanced learner, I can recommend a few options for you.
For starters, if you're someone who likes to study on his own, I recommend the following programs:
Busuu
Mondly
Rocket Languages

However, if you would like to hire a teacher/tutor, I recommend you try the following:
italki
Lingoda
Preply

Feel free to check my site to learn about more resources. Don't forget to check back often to learn more about the French language and culture. Salut!