If you have been trying to improve your language skills, chances are you have run across Conversation Exchange (www.conversationexchange.com). Learning a new language by interacting with native speakers sounds attractive, but it's easier said than done. There are many pros and cons to consider, although it's always recommended to try it oneself and then decide.
I've used this site for years, and my results have been good for the most part. However, I know people that don't recommend this site at all based on their experience. In this Conversation Exchange review, I will explain to you how it works, the pros, the cons, and a few tips to make the most out of it. Are you ready? C'est parti!
What is Conversation Exchange?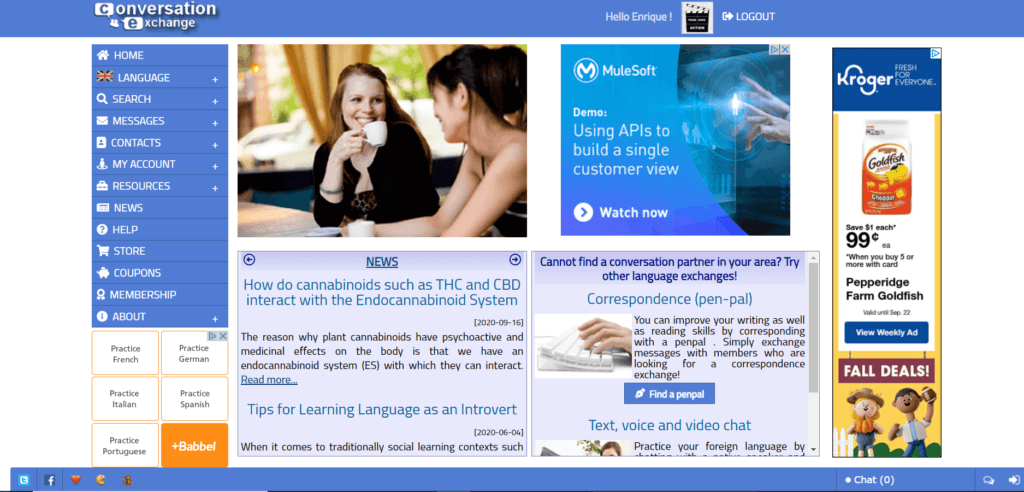 Conversation Exchange is nothing more than a tandem or language exchange platform. It hosts many native speakers of different languages around the world that are interested in finding others to exchange their languages. For example, I'm a native Spanish speaker interested in learning French. Well, all I have to do is look for a native French speaker that is interested in learning Spanish. Once I found one, I establish communication with that person, and we go from there.
According to its About page, Conversation Exchange was created by two Italian guys who traveled around the world and were fluent in Venetian, Italian, English, and Spanish.
Some of the most popular languages on the site are English, Spanish, French, Italian, Chinese, Arabic, Japanese, Korean, Russian, German, Portuguese, Turkish, Thai, Hindi, Greek, Danish, Dutch, among many others.
Signing Up
You have to create an account to use the site, but don't worry, it's free!
The signup process is fairly simple. You just type your email, and they will send you a validation email. Once you validate your email, you will be redirected to another page where you will have to enter the following information:
Nickname.
The country you live in.
The town you live in.
Gender.
Birthdate (all users must be 18+).
Native language(s).
Practicing language(s).
Type of exchange (you can choose between face to face, penpals, and chat).
Hobbies and interests.
Description of yourself.
Password.
Unfortunately, it's not possible to upload a photo, but you can choose an avatar. Once you're done entering your information, you just have to certify you're 18+ and that have read and accepted the terms and conditions. That's it!
How to Use the Site
Before anything else, you can choose the language of the site. It's in English by default, but you can change it to Spanish, French, German, Italian, Portuguese, Arabic, Japanese, Chinese, Korean, or Russian.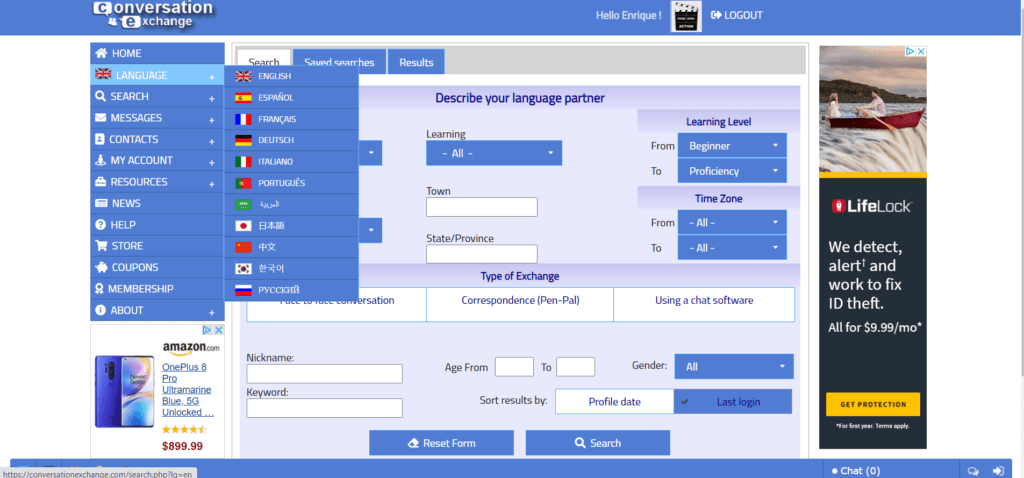 The site aims to help its users find others to engage in a language exchange. But how do you find those people? Well, Conversation Exchange allows you to customize your partner search by applying several filters like spoken languages, proficiency level, country, timezone, gender, age, and type of exchange.
Additionally, you can sort results by profile date or last login, and you can also save your searches. This is very convenient when you have more than one search with different filters.
When you find someone that interests you, you have to send him/her a message where you introduce yourself and ask if he/she would be interested in practicing together. If you receive a positive answer, great! If not, you will have to keep looking.
If someone is interested in practicing with you, it's recommended to add him to your contact list for faster communication.
Who Uses the Site?
You will find people from all over the world and from different backgrounds. There are people in their 20s, 30s, 40s, 50s, 60s…I've even seen a few over 70. There are students, professionals, housewives, retirees…a little bit of everything.
So, don't think age is an impediment. Give it a try, and you will find someone to practice with.
Means of Communication
As we mentioned earlier, there are three types of exchanges: face to face, penpals, and chat.
Some people prefer to meet in person at a coffee shop or restaurant. If you're interested in this and live in a big city, you have more possibilities of finding partners looking for this type of exchange.
If you're old school and don't trust in-person meetings or chat, you can try finding a penpal. Just be advised this is the least popular type of exchange, especially among the younger generations.
I would say most people prefer to use some form of technology to interact. This includes Skype, Hangouts, iMessage, Yahoo Messenger, KakaoTalk, LINE, ICQ, WeChat, Second Life, AIM, FaceTime, WhatsApp, Facebook Messenger, Twitter, Viber, Steam, Telegram, Signal, Threema, Discord, and Zoom.
Conversation Exchange also has a chat feature called ChitChat, although not many people use it. You can give it a try, though.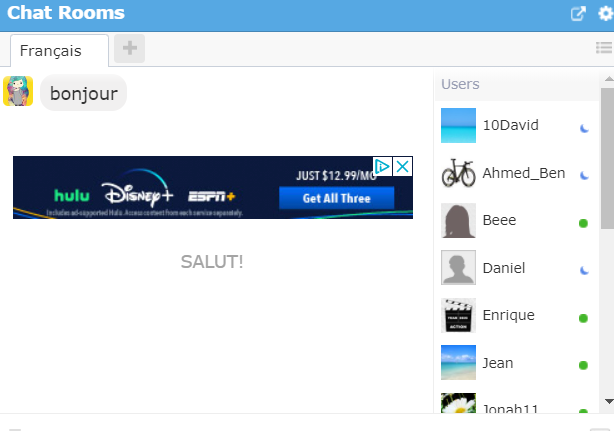 Learning Resources
Although Conversation Exchange focuses on language exchange, it also offers some interesting language resources. These include:
Language exchange tips.
Tutorials in different languages to learn how to use the site.
Survival phrases in Spanish, French, and Italian.
Jokes in English, Spanish, and Italian.
List of Spanish verbs.
Pronunciation guides for American English and Italian.
French listening activities.
Ideas for conversation topics.
There is also a News section that includes miscellaneous articles that range from using social media for languages, finding a job, working from home, etc.
Other Features
Conversation Exchange has a FAQ section for your convenience.
There's also a Store section where you can buy a couple of branded souvenirs, namely T-shirts and drinking bottles.
Did you know you can find codes and coupons to save on your purchases? Yes, Conversation Exchange has agreements with different stores to give discounts to its members. Codes include known brands such as Fossil, Guess, Lacoste, Levi's, Nike, Old Navy, Ralph Lauren, Samsung, Tommy Hilfiger, Vans, among many others! You can even get discounts on flights and hotels. Check the full list here.
Membership
Conversation Exchange is free to sign up for and use. As you can imagine, it must get money from somewhere. Like other free sites, Conversation Exchange monetizes its site through ads, although to be honest, they're not that intrusive. However, if you can's stand any ads while browsing, you can upgrade to a paid membership. Memberships range from 6 months to 10 years. You can see the prices below.
Testimonials
Many users specify they love the ease of use and convenience of using the site. You can see a few testimonials of real users below.
Pros of Using the Site
Now that we've talked about what Conversation Exchange has to offer, let's talk about some of its pros:
100% free unless you don't want any ads.
Ample variety of users from all over the world.
Many of its members are active and committed to learning.
Easy to use.
Several filters to find partners that fit your preferences.
Perks include codes to save on personal purchases.
Cons of Using the Site
Honestly, there are more pros than cons, but the latter include:
No mobile app, although the mobile version of the site is user friendly.
No integrated video chat. You have to establish communication through Skype, Facebook Messenger, WhatsApp, or some other program/app.
Not many people use ChitChat. It doesn't have any video in case you're interested in a video call.
A Few Tips
Now, let me give you some tips to make the most out of your experience with this site.
Contact as many people as you can. The truth is, many people will either ignore your messages or say they're busy.
Be patient. Finding a partner takes time and effort.
Be flexible. You might have to change your preferences a bit. That might include changing the gender, location, or age range of your potential partners.
Be specific. Complete your profile in as much detail as possible.
Read and understand what others are looking for. You can tell when others didn't read your profile.
Be careful when providing personal information. It's better to start using Skype or Zoom before switching to something more personal like Facebook or WhatsApp.
If meeting in person, only do so in public places, at least in the beginning.
Above all, respect others' privacy and preferences. Conversation Exchange is not for dating. You can find foreign dates somewhere else.
Final Thoughts
In my experience, out of all the language exchange platforms I've used, the one I've been most successful with is Conversation Exchange. It hosts an active community of users interested in exchanging their languages and cultures.
Conversation Exchange is very easy to use, and what's best, it's free! You don't have to pay a single dime unless you don't want any ads while using it.
There are people from all over the world. If you're patient, you will find someone to practice with. You can even make a few good friends and visit them someday.
Conversation Exchange caters to everyone. Whether you are a student, a professional, a housewife, or a retiree, there's something in store for you.
Based on all we mentioned above, our overall score for Conversation Exchange is 9.5/10.
What about you? Have you ever used it? How did it go? How often did you use it? Did you learn anything? Would you recommend it? What would you improve? Let me know in the comments below. Au revoir, les amis!