In our last post, we discussed books for adults learning French. But what about kids? Unlike adults, kids are visual learners. They like to watch photos or videos when they study. A book without pictures is boring. That's why it's important to come up with creative ways to teach kids something, in this case, French.
One of the best ways to teach kids French is through storybooks. But which ones should you try? There must be a plethora of them, right? Don't worry! Here we will show you a list of the best French storybooks for kids. Let's get started!
10 Bilingual Fairy Tales in French and English
Average Amazon rating: 4.4/5
Fairy tales are a favorite classic. Kids love hearing about magic, elves, fairies, and the like. Who would have thought kids can learn a language by just reading some fairy tales?
Not only will kids be able to read about fantastical characters, but they will also learn vocabulary and basic grammar structures. It all comes naturally as they turn page after page.
The book includes access to audio so kids can listen to native French speakers and learn the correct pronunciation and develop their listening skills.
Each story comes in French and English. I highly recommend this book for parents raising bilingual kids and adult beginners looking for something easy.
The Fabulous Lost and Found and the little French mouse
Average Amazon rating: 4.7/5
Can you imagine going to another country and not being able to speak the local language? Well, that's what happens to the main character of this book. A French mouse goes to the Lost & Found, but the problem is, he doesn't speak English!
Kids will love this book and I can assure you they will have a good laugh as well. Although the book is short and simple, it is entertaining and is a great learning tool. Kids will learn over forty words and phrases to build their vocabulary.
It is recommended for kids ages 2-7. Although the author claims the book is bilingual, some people argue it is not for non-French speakers as they have to guess the meaning of some words. Still, it's worth a try.
Children's Stories in Dual Language French & English
Average Amazon rating: 4.4./5
This book was designed with kids ages 7-12 in mind and is the first part of a series of three bilingual books. It has ten fantasy stories in total. Each paragraph is written first in French, and it's immediately followed by the English translation.
Kids will engagingly learn vocabulary, but the best of all is, they will have access to the audio version as well. This way they can listen to a native speaker at the same time they look at the text.
Most reviews are positive, except for a couple where they think the topics are inappropriate for kids. Other than that, I think you should give it a try and decide for yourself.
10 Bed-time Stories
Average Amazon rating: 4.3/5
How about a book with bedtime stories in French and English for kids? This book is great for kids ages 8-12. They will learn vocabulary and develop their imagination and a passion for reading. A great way to form a bond with your kids.
Unlike the books above, this one is written in parallel text. That means there are two columns so kids can choose whether they want to read just in French or in English as well.
Kids also have access to the audio version so they can listen to native speakers.
The major con has to do with the lack of images. Yes, unbelievably, this book does not have any images. Other than that, it's a good learning tool for kids and adult beginners.
100 First Words for Toddlers
Average Amazon rating: 4.7/5
Although this is not a storybook per se, kids will love this book. It is beautifully illustrated and will capture their attention. They will learn lots of vocabulary that are commonly used in French.
Adults will find some useful tips from teaching experts to teach their kids properly. Both kids and adults will love it!
This book is recommended for kids ages 0-3. If you want to expose your toddlers to another language besides English, this is the book you should get.
Cool Kids Speak French
Average Amazon rating: 4.6/5
Kids of all ages will love this book. It is beautifully illustrated and is divided into shorter sections like greetings, numbers, colors, animals, etc. Each section starts with vocabulary learning and then some games to reinforce the concept taught therein.
Kids will be gradually exposed to new words and grammar structures. The book comes with many activities like coloring pages, filling in the blanks, word searches, counting, etc. A great way to learn and brush up what they learned in previous sections.
This book is also a great learning tool for beginners. Highly recommended.
French for Kids
Average Amazon rating: 4.6/5
This book is great for kids ages 3-8. Well, it's not just one book but rather ten short books. Each book is 16 pages long and focuses on one story. The author believes that kids learn more effectively when the words are in context rather than just showing them flashcards.
Kids will have access to a French-English chart, English translations at the back, downloadable activity sheets, and audio recordings.
Repetition is key, and it shows here. The concepts are repeated over and over in different ways so they stick in kids' heads.
The books are simple enough for the youngest ones, yet challenging for older kids. A must have.
Fly, Little Bird – Vole, petit oiseau
Average Amazon rating: 4.6/5
Kids are like little birds that need to learn how to fly. It's scary, but we have to overcome our fears to succeed in life.
This book is a powerful tool for bilingual kids (French-English). It comes with cute illustrations and short sentences telling a story. Each line is both in French and English.
The book also includes extra pages with coloring and drawing activities. Kids will love it!
Not only will kids learn vocabulary and phrases, but they will also learn important principles like teamwork and problem-solving.
As with most kids' books, this can also be used by adult beginners. Of course, they can skip some activities, but it's a good starting point nonetheless.
Conclusion
Kids learn fast, but they tend to get bored. We as adults have to look for creative ways to help them learn. French storybooks for kids are great at that.
There are way more books we could include here, but the post would be endless. Feel free to leave your recommendations in the section below.
I hope you found this useful. If you did, please don't forget to share it with others. Au revoir, les amis!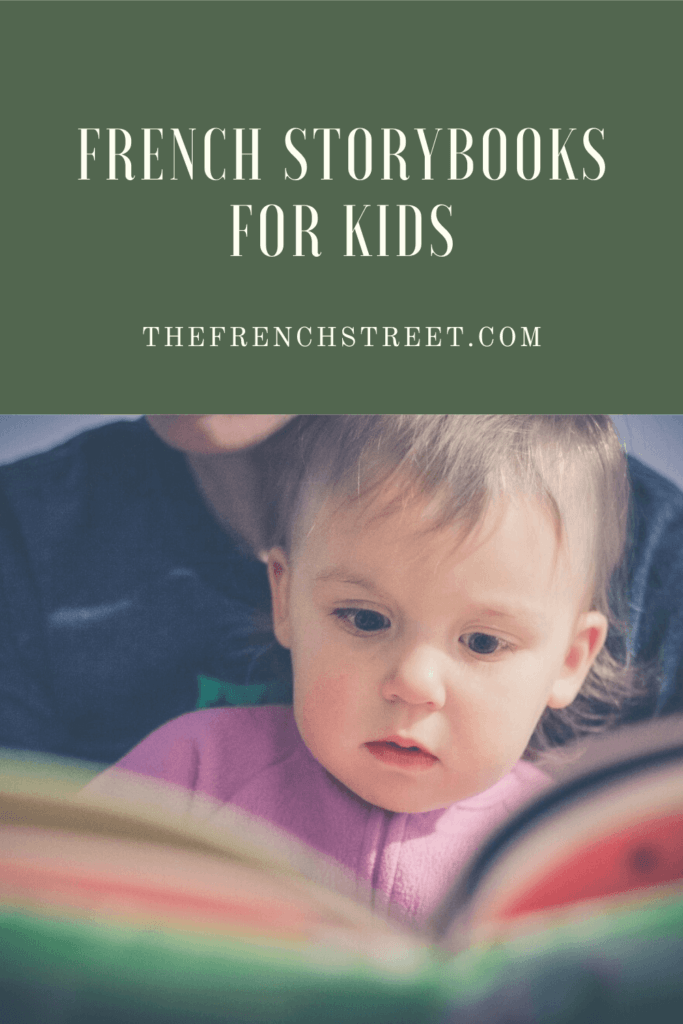 Let's Learn French!

Are you ready to take your French to the next level? I'm glad you are! Whether you are a beginner or an intermediate/advanced learner, I can recommend a few options for you.
For starters, if you're someone who likes to study on his own, I recommend the following programs:
Busuu
Mondly
Rocket Languages

However, if you would like to hire a teacher/tutor, I recommend you try the following:
italki
Lingoda
Preply

Feel free to check my site to learn about more resources. Don't forget to check back often to learn more about the French language and culture. Salut!