Video learning has become a popular learning tool for just about everything, and language learning is no exception. Many people enjoy the experience of watching videos, and the latter has proven to be an effective method. We are visual creatures by nature, and videos offer what other tools like books can't.
I have come across many learning platforms since I started studying French. However, this is the first time I've found one that focuses solely or mostly on videos. I tried it to see what the hype was about, and I must say I'm impressed. If you would like to learn more, then read my FluentU review below. Allons-y!
What Is FluentU?
FluentU is a Hong Kong-based company that offers video content for those interested in learning languages. They believe that it is the best way to learn a language, and that's why they focus on that. The premise is simple: use existing YouTube videos and convert them into enjoyable, interactive lessons by adding subtitles, flashcards, pronunciation guides, and quizzes.
FluentU is a members-only service. Unlike other platforms, there is no free version. While they do offer a free trial, you won't be able to use it anymore if you don't upgrade. More on that later.
Which Languages Are Offered?
At the time of writing this post, there are currently 10 languages offered, namely:
Spanish
French
Chinese
Japanese
German
English
Russian
Italian
Korean
Portuguese
In most cases, you have to know English to learn your target language as most lessons are taught in English. There are a few exceptions, though. We will discuss that later in this post.
What Kind of Videos Can I Find?
Good question! There are many kinds of videos to choose from: movie trailers, music videos, tutorials, vlogs, news, interviews, commercials, and language lessons.
You can sort videos by difficulty, date, popularity, length, or title. You can also choose from a list of topics (Everyday Life, Arts and Entertainment, Kids, Culture, etc.) or video formats (Clips, Commercials, How-to, Interviews, etc.).
The number of videos is significant for languages like English, French, and Chinese.
How Does Learning with FluentU Work?
FluentU is quite easy to use. Once you find a video to your liking, you will have access to several tools. For starters, before playing each video, you will find a list of key vocabulary as well as the transcript of the video along with the corresponding pronunciation guides.
As the video is playing, you will see the captions (this will be in your target language) and the English subtitles below it. You can pause the video as many times as you like. If you hover over a word, you will see a flashcard and hear the pronunciation.
When you finish watching the video, you will be presented with a quiz to test your comprehension. This will be in the form of activities like filling in the blanks, unscrambling words, and multiple-choice questions.
For your convenience, FluentU allows you to download the transcript pdf file. You can also add the videos you liked to your Favorites list for easier access.
So, Is It Just Videos and Nothing Else?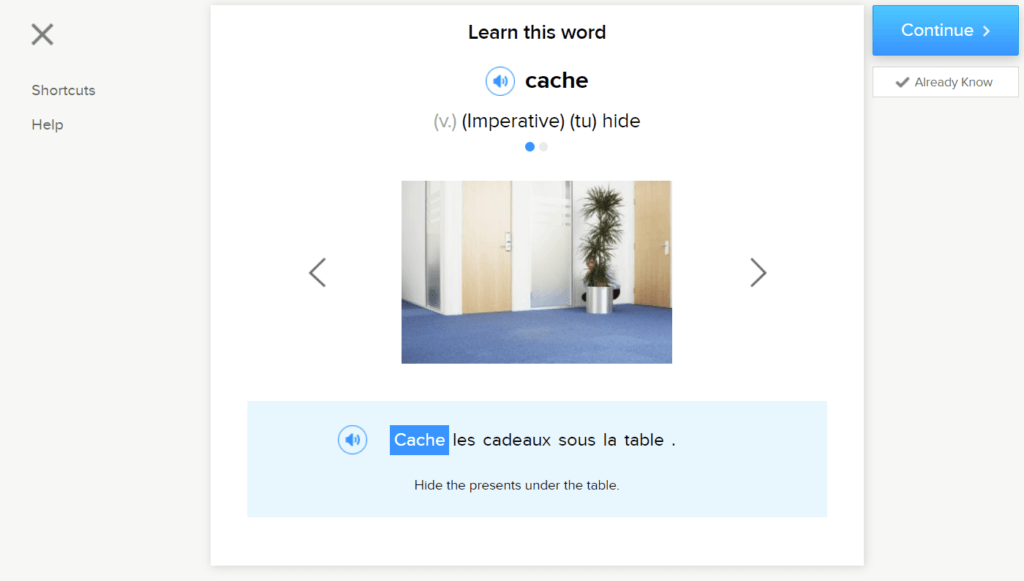 For the most part, yes. I would say 90%, if not more, consists of video content. However, you also have access to the following:
Audios
Flashcards
Playlists
Audios have the same format as videos, except they're not videos. However, unlike the latter, the focus of audios is grammar. Here you will learn things like genders, verb conjugations, asking questions, etc.
Flashcards are self-explanatory. Here you will learn vocabulary in context along with pronunciation. Once you feel comfortable with the lesson, you can take a quiz.
Finally, playlists are collections of audios about specific topics. Each playlist usually consists of two or more audios about things like giving commands, giving advice, foods, making plans, among other random topics. At the end of each audio lesson, you can take a quiz to test your knowledge.
How Much Does FluentU Cost?
There are currently two types of membership: monthly and yearly. The monthly membership is $29.99, while the yearly membership is $19.99/month ($239.99 billed annually). If you choose the latter, you will end up saving the equivalent of four months.
Accepted methods of payment include Visa, Mastercard, Discover, American Express, and PayPal.
Is There a Free Trial?
Yes, there is! There is a 14-day free trial for those interested. Be advised that you need a credit card to take advantage of this offer. You can cancel your membership at any time during the free trial. Just make sure to cancel your membership if you don't want to continue. Otherwise, your card will be charged.
How Do I Sign Up?
To start, you need to choose your target language. Don't worry. You can change this at any time. Next, you have to choose your membership plan. You will then be prompted to create a user and password. Once you do that, you have to enter your credit card information. Finally, you have to confirm your subscription by clicking on the link they email you. It's that simple!
Setting Up Your Account
Setting up your account is just as easy. All you have to do is pick your level (beginner, intermediate, or advanced) and select a daily goal (ranging from 1-50 minutes per day).
If you desire to do so, you can select a few videos at this point to get started. However, you can do this later. There's no rush.
By default, the site is in English, but you can change it to Spanish, Japanese, or Korean. That's it! You can now start learning your favorite language!
What I Liked
After trying FluentU for quite some time, I have come to like several things about it:
It's one of the most user-friendly sites I've ever used. Anyone can use it, no matter their tech skills.
It's great for people of all ages, from kids to seniors.
The featured videos are diverse, not your typical boring lesson.
New videos are constantly added.
The clips are short, allowing you to repeat them as many times as you like or to easily find something without wasting a lot of time.
The hover-over feature is fantastic. You have instant access to vocabulary and pronunciation without having to exit the video.
The captions/subtitles allow you to better grasp each concept as opposed to just reading subtitles or captions separately. Eventually, you get used to not translating, but it's impossible at first.
Like other language learning sites, it relies heavily on repetition. However, it doesn't feel tedious or monotonous. They spice it up by using different techniques.
What I Didn't Like
Unfortunately, there is an equal number of things I didn't like:
For starters, I didn't like the price. Compared to other similar options in the market, it's somewhat expensive considering what you get.
No free version.
You need a credit card for the free trial. In all fairness, most companies do this hoping people forget to cancel and thus, their membership renews automatically.
The selection of videos for some languages is limited and inequitable. For instance, Italian and Portuguese have less than 500 videos available each, while English and French have well over 1,000 videos each.
There is no option to record your voice and see if you're pronouncing correctly.
There is no set structure. Videos are just divided into beginner, intermediate, and advanced levels. I prefer a structure that takes you from point A to point B. However, that can be an advantage depending on your learning style.
What Do Others Say About It?
Most online reviews are positive. Teachers praise the innovation of the site and the vast array of videos, while students mention the ease of use, the results obtained by using it, and their preference for it compared to other sites.
On the downside, most people agree it's pricey and there are better platforms out there.
Alternatives to It
Depending on your goals, budget, and learning style, there are several alternate routes you could take:
If you want something more complete, some of the best methods I highly recommend are Français avec Pierre and Français Authentique. They're not cheap, but you have access to a plethora of excellent learning resources.
A Word of Caution
While doing some research for this post, I came across a Reddit post where the op stated that FluentU charged him $1.32 when he canceled his free trial after only one day. It seems that FluentU doesn't automatically block access to its content after canceling your free trial. So, if you sign up for the free trial and then decide it's not for you, cancel it before the 14th day and DON'T try to access the content after that. Better safe than sorry.
Bottom Line
With an extensive library of video content, FluentU is an excellent learning tool for those interested in languages. However, as attractive as the core concept might be, the site lacks diversity. It's a good complementary tool, but you will still need other tools. If you want a site where you have it all, this is not it.
The price is quite high considering what you get. However, that does not mean it's not worth it. I recommend you try it out and then decide for yourself.
Will you become fluent by only using this site as the name implies? Certainly not. However, it's a good starting point.
I hope you enjoyed this post. Please leave your questions or comments below, and I will do my best to get back to you as soon as possible. Au revoir les amis!