There are so many language learning sites online that choosing just one becomes an impossible task. They all seem to offer the same things at similar prices. But just how good is their quality? How good are their teachers? How do their systems work? What should you look for when choosing a language teacher?
In my eternal quest for learning, I came across a site named Preply. If you need to find a language tutor/teacher, this is a really good site to do just that. Would you like to learn more about this platform? Then keep on reading my full Preply review. Let's get started!
What Is Preply?
Okay, but what exactly is Preply? What does it do or what does it offer? Well, simply put, Preply is a Ukraine-based online marketplace for teachers all over the world. It is similar to italki.
On Preply, you can find teachers from all walks of life that will do their best to adjust to your schedule and learning preferences. It's quite easy to book a lesson and start learning online on this platform.
Although the site focuses on languages, you can find tutors for other subjects such as math, computer science, SEO, app development, graphic design, among others, making it a very useful e-learning platform.
Courses Offered
As I mentioned above, you can learn a lot of skills by using this platform, even acting and Pokemon Go. However, for the sake of this review, we will solely focus on languages.
Speaking of languages, you can choose from around 50 of them:
| | | | | |
| --- | --- | --- | --- | --- |
| English | Portuguese | Finnish | Irish | Tibetan |
| Spanish | Polish | Hungarian | Icelandic | Persian (Farsi) |
| French | Turkish | Hindi | Croatian | Lithuanian |
| German | Ukrainian | Serbian | Catalan | Slovak |
| Japanese | Dutch | Danish | Bulgarian | Vietnamese |
| Italian | Greek | Urdu | Bengali | Telugu |
| Korean | Hebrew | Khmer | Indonesian | Tamil |
| Arabic | Swedish | Belarusian | Thai | Sign |
| Chinese | Czech | Sanskrit | Latin | Tagalog |
| Russian | Norwegian | Romanian | Punjabi | |
The most popular languages on the site are English, Spanish, and French, but if you're looking to learn another language, you will probably find a teacher that's willing to work with you.
Finding a Tutor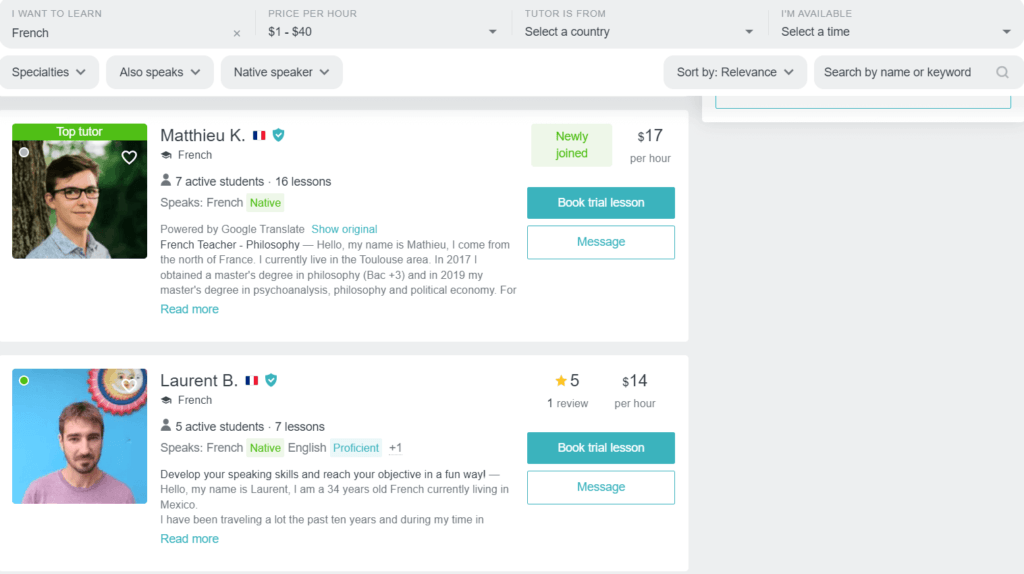 For starters, you have to sign up either through Facebook, Google, or email. Once you do that, you will be presented with several filters to start your search. The more specific you make your search, the better.
You can filter tutors by:
Desired language
Price range
Tutor's country of origin
Availability
Tutor's specialties (Business courses, Beginners, Kids, etc.)
Tutor's spoken languages
Native speakers
Certified tutors
You can watch a short introduction by the tutor and take a look at his résumé. If you have additional questions, you can send him a private message. Don't forget to check out other students' reviews as well.
What Are Lessons Like?
This will depend on what you and your teacher agreed. Your lessons can be as informal or as formal as you want. If you want something more structured and target-oriented, then I recommend choosing a certified teacher.
However, if you just want to speak French (or any other language) with someone, then you can either choose a native speaker or an advanced speaker of your target language.
There is no set curriculum by Preply. Each teacher will provide his materials for each lesson. This can be in the form of videos, flashcards, text, or audio. In the end, he can assign homework so you can practice what you learned that day.
All lessons are one hour long. You can take lessons directly on Preply Classroom (Preply's built-in video chat) or some other video-chat platform like Skype.
What About Teachers?
There are two broad categories in this regard: certified and non-certified teachers. Many teachers are certified and have ample teaching experience, while others are just native/advanced speakers starting.
As you can imagine, it's cheaper to study with a non-certified tutor, but before doing so, you have to consider your objectives.
The good thing is, you can use Preply's filters to find exactly what you need. Take advantage of those tools to find the right teacher. It's quite easy.
Pricing
Each teacher sets his rates. This can vary widely from $5 to $40 per hour depending on the teacher's credentials. Unlike italki, its pricing structure is straightforward.
All the lessons are capped at $40. That's the maximum you'll pay for a one-hour lesson for any language. On average, I would say most teachers charge between $15 and $30 per hour, which is the average price in the market.
For your convenience, Preply allows you to take a trial lesson with any teacher and get a 100% refund if not satisfied. After that, you can book lessons one by one or in groups of 5, 10, 15, and 20. Of course, you will get discounts which scale as the number of hours goes up.
Payment options accepted include Visa, Mastercard, Discover, American Express, and PayPal.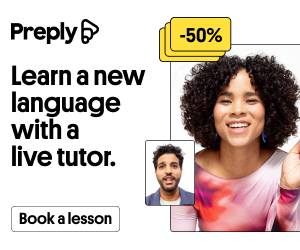 Other Resources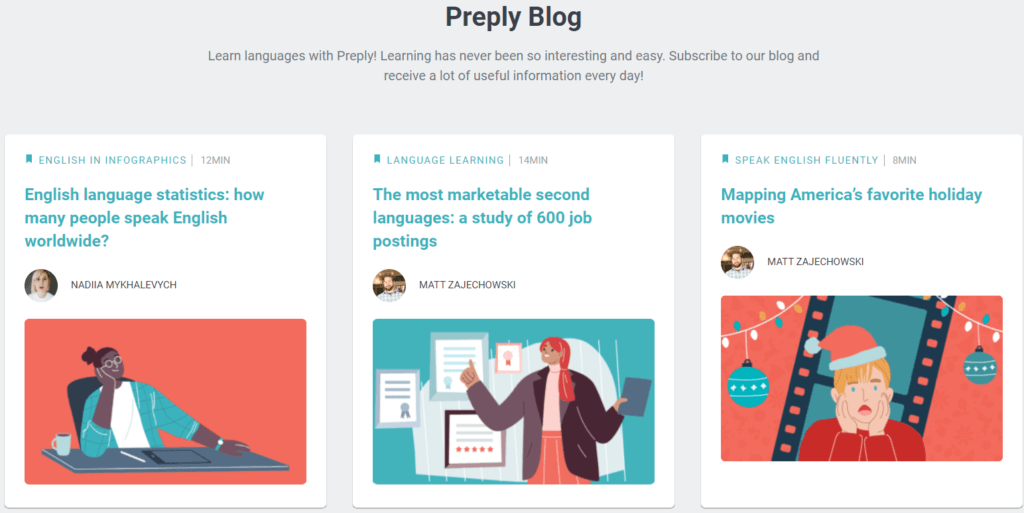 Preply has a blog with lots of articles on different subjects. You can read about vocabulary, idioms, learning tips, and random things like why you should study a new language, the future of languages, etc. The content is updated regularly and is of great assistance.
If you're a teacher, you will also find this useful. You can find tips from other teachers and education professionals to improve your classes and interaction with your students.
There is also an active community where students and teachers interact with each other. Students can leave questions about languages and teachers will do their best to answer them in as much detail as possible.
What I Liked About It
Okay, by now you have a better idea about Preply. After using it for some time, these are some things I liked about it:
One-on-one lessons.
Ample variety of teachers to choose from in most cases.
Reasonable prices.
Its interface is simple to use.
Integrated website and mobile app.
Ability to filter potential teachers.
Written summaries provided at the end of each lesson.
Excellent customer service/support.
100% satisfaction guarantee.
College students can get up to 15% off. Also, if you refer a friend and he signs up, you get a $30 credit.
What I Didn't Like About It
To be honest, I like Preply except for two things:
Although most teachers are either native speakers or certified in the language(s) they teach, that's not always the case. For example, I came across a native Spanish teacher that taught French, but he was an intermediate speaker. While I don't think you have to be a native speaker to teach a language, you have to be at an advanced level or be certified.
Preply doesn't allow you to just buy credits and then choose a teacher. First, you have to take a trial lesson with a teacher and then buy more lessons if you want to continue. This means you can only buy lessons for one teacher at a time.
What Do Others Say About It?
With 1 million+ students and 15,000+ tutors, Preply has an average score of 4.3/5 stars on Trustpilot. Most users point out the ease of use, the quality of the teachers, the flexibility of the courses, and the reliability of the company.
A few negative comments mention problems with recurring billing and teachers not showing up. However, most people seem to have enjoyed the overall experience.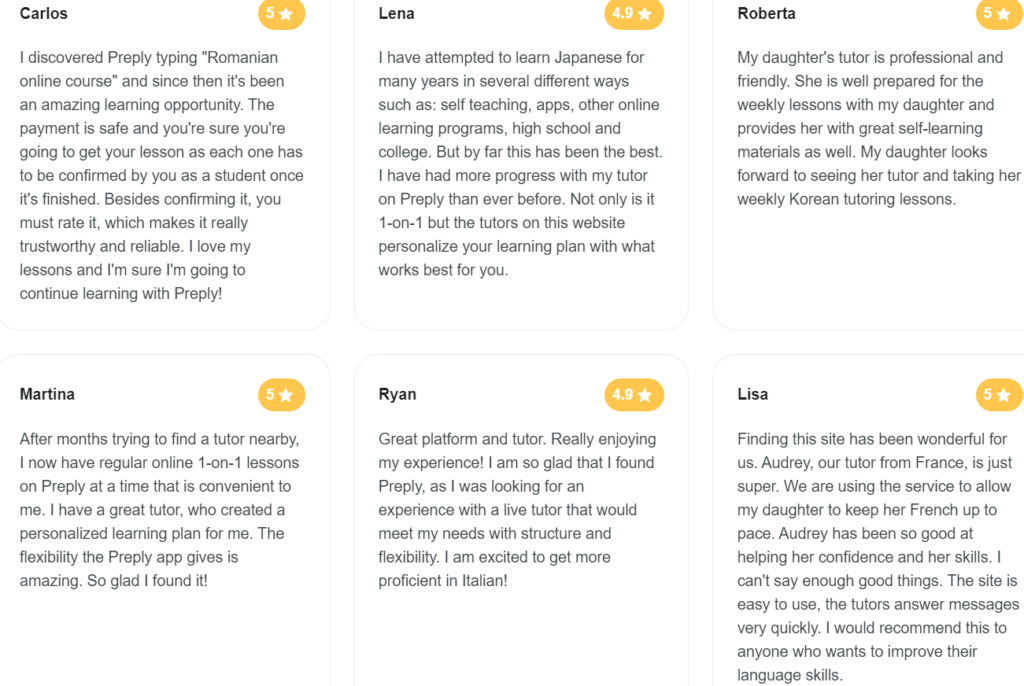 Alternatives to Preply
Preply's main competitors are italki and Verbling. Overall, they offer the same thing: one-on-one language lessons at affordable prices.
Some teachers teach on more than one platform. In that case, the deciding factor would be the platform's features and reputation. Although being honest, all three companies are at a similar level.
italki has more teachers, but its pricing structure is complicated. On the other hand, Preply's pricing is straightforward. Verbling is somewhere in between.
You can try them all and choose the one you feel most at ease with. They all offer trial lessons, so you don't have anything to lose.
Final Thoughts
Studying a language with a tutor/teacher is one of the most effective ways to learn a language. A teacher provides guidance and motivates you when needed. While some people can learn on their own, studying with a teacher is an invaluable tool
Preply is one of the best sites to find an online teacher. It is simple to use and provides several filters to find the perfect teacher for you.
Most online reviews about it are positive, so that should tell us something. In any case, you can take trial lessons and then decide. However, make sure to make some thorough research first to avoid losing your time.
Have you tried Preply? How did it go? If not, are you willing to give it a try? Let me know in the comments below. Au revoir, les amis!