Learning a new language may be boring, but it doesn't have to be. Educators and language companies have become aware of that, and that's why they are changing their approaches. One of them is Mondly. Have you ever heard of them?
Well, if you haven't, don't worry. In this Mondly review, I will tell you more about them. You will understand how their system works, how much it costs, the pros and cons…everything!!! By the end of this post, you will be able to determine if this course is for you or not. Allons-y!
What Is Mondly?
Mondly is an interactive language-learning site where you will learn vocabulary, pronunciation, some grammar, and useful phrases for different situations in life like traveling, eating out, applying for a job, etc.
One thing that stands out about Mondly is its gamification. It's not the typical boring language course but rather a fun game for young and old. The lessons are short, and you get to compete against other users around the world.
There is also an integrated app with the same content should you choose to use a tablet or smartphone instead of a computer.
Languages
Mondly currently offers 41 languages. Besides French, you can also study the following:
| | | | |
| --- | --- | --- | --- |
| Afrikaans | Dutch | Japanese | Romanian |
| American English | English | Korean | Russian |
| Arabic | Finnish | Latin | Slovak |
| Bengali | German | Latvian | Spanish |
| Bulgarian | Greek | Lithuanian | Swedish |
| Catalan | Hebrew | Norwegian | Tagalog |
| Chinese | Hindi | Persian | Thai |
| Croatian | Hungarian | Polish | Turkish |
| Czech | Indonesian | Brazilian Portuguese | Ukrainian |
| Danish | Italian | Portuguese | Urdu |
| | | | Vietnamese |
Interface
Mondly's interface is simple and easy to use. It looks like a map of any board game. In fact, it reminds me of Monopoly and similar games where you roll the dice and advance x number of spaces.
However, unlike those games, there are no dice here and you don't have to follow any specific order. The map is divided into modules or topics like travel, restaurants, family, colors, etc. Each topic is further divided into 6-8 short lessons for your convenience.
What Are Lessons Like?
Each lesson is about 5 minutes long and covers a specific topic. They all come with audio and different exercises like filling in the blanks, unscrambling words, multiple-choice questions, translating sentences, and spelling tasks.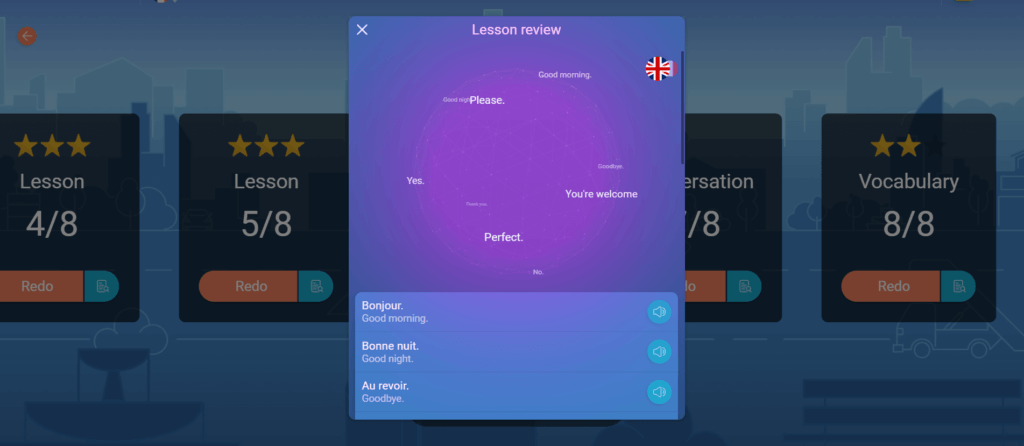 You're also given the option to record your voice to compare your pronunciation with that of the chatbot. By the way, some exercises are simulated conversations where you record your voice and change roles with the chatbot. At the end of the conversation, you can play the whole thing to check for any mistakes in your pronunciation.
At the end of each lesson, you can take a quick vocabulary review to reinforce what you just learned. If you complete all the daily lessons, you will have access to the weekly quiz, and if you complete all the weekly quizzes, you will have access to a monthly challenge.
Chatbot
Mondly is automated and interactive. You can interact with it via its chatbot as we mentioned above. Imagine you're talking to someone. This is exactly what the chatbot does. You can engage in role plays about different topics.
You can either type or record your answer. Just make sure your mic works and you're good to go!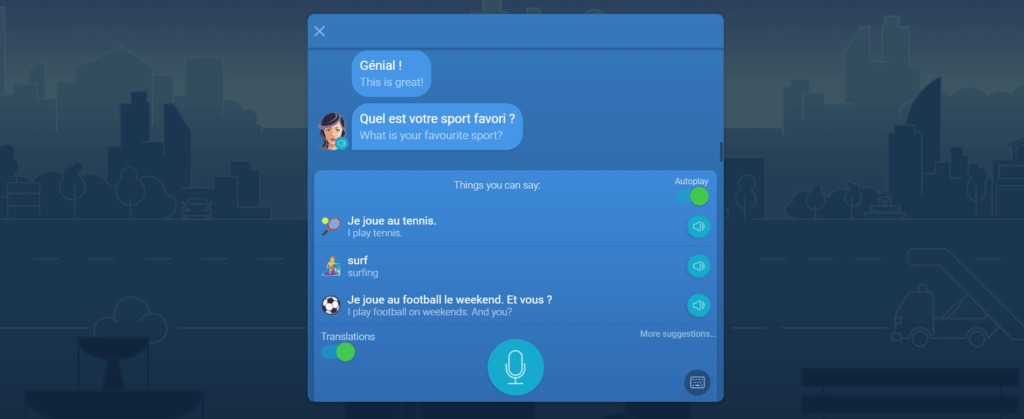 Signup
Signing up is an easy, straightforward process. You can do so via email or through your Facebook, Google, or Apple accounts. It doesn't take you more than a couple of minutes and you can start taking lessons right away!
Free vs Premium Member
When you sign up, you're automatically a free member. You will have access to the first 8 lessons plus 1 free daily lesson. However, keep in mind you will have to wait for 12 hours before being able to take the next free lesson.
On the other hand, if you're a premium member, all the lessons will be unlocked for you to take them whenever you feel like it. You will also receive have access to exclusive content and the other 41 languages offered on the platform.
Pricing
Now, you would think that a platform where you can learn so many languages would cost a fortune, right? Well, not necessarily. At the time of writing this post, these were the current prices:
1 language monthly – $9.99
1 language yearly – $47.99
All languages yearly – $47.99 (90%!)
The yearly membership is the one I recommend. It comes out to just $4 a month. That's way less than buying a burger or a movie ticket.
What's even best is that you can study all the languages offered on the platform for the price of one language. We don't know how long this will last so you'd better hurry!
They accept all major credit cards as well as ACH, wire transfers, PayPal, checks, and even cash at 7-Eleven locations.
What I Liked About It
After using Mondly for some time, these are the things that I liked about it:
An impressive selection of languages, including unusual ones like Latin.
The lessons are short and fun.
Integrated website and app for interchangeable use.
Free 7-day trial.
Premium membership is affordable and good value for money.
Easy signup.
What I Didn't Like About It
Unfortunately, not everything is perfect. These are some things that I didn't like about it:
The lessons get too repetitive at times.
The platform relies too much on translation.
The lessons are somewhat disorganized and don't follow a pattern progressing from easy to difficult.
Each lesson is about a specific topic, but it doesn't specify which concepts (verbs, adjectives, etc.) will be covered.
Grammar is not a priority.
The chatbot only understands preset answers, thus limiting the interaction.
No interaction with other learners other than the leaderboard.
Who Is It For?
Mondly is a good learning option for most ages. I especially recommend it if you:
Like games.
Are looking for an affordable language course.
Get bored easily with other courses.
Need short lessons.
Like to compete against others.
Like flexibility.
Who Isn't It For?
On the contrary, I don't recommend it if you:
Prefer a structured program.
Need an intensive course.
Are at an advanced level.
Need constant supervision.
Are not good at learning by yourself.
What Do Others Say About It?
If you do some search online, you will find that most people like Mondly. They like the gamification and overall content.
However, the recurring complaint from users has to do with billing and some app features not working correctly. I haven't had any of those problems, but it's something you might want to consider.
Final Verdict
Mondly is a good language-learning program for those who need something simple, fun, and affordable. The lessons are short and easy to follow on a daily basis. All things considered, we rate it 8/10.
However, as a free member, you will be severely limited. Most features are unlocked, so to make the most out of it, you'll have to upgrade to premium.
You will not become fluent by using Mondly alone, although it is a good starting point. The good thing is, you can use it in conjunction with other learning tools like private classes.
Although the paid membership is not that expensive, you may still have doubts about it. If you're still not sure, your best bet is to get the free trial. You don't have anything to lose after all.
I hope you liked this review. Please leave any questions and comments you have in the section below. Au revoir, les amis!