The options are endless when it comes to learning a language. It doesn't matter if you're a beginner, intermediate, or advanced learner. You can study at home, on your lunch break, or even while traveling. All you need is an internet connection and a laptop, tablet, or smartphone. Just that and you will have access to online platforms where you can study with teachers from all over the world.
One of the most popular language platforms is italki. You may have heard about it or seen ads online. Many people have benefitted from it. It offers an ample variety of languages and flexibility for those interested in learning a new language. That's why today we put together an italki review for you. Is it worth a shot or should you stay away from it? Let's find out!
Company History
Italki's history goes back to 2006. It was originally launched as a social network for language learning. The idea was to connect people globally, but it was far from becoming a language learning platform.
It wasn't until 2008 that italki headed in another direction by opening a marketplace for teachers and students interested. This way, italki became an intermediary where teachers could offer their services and students could hire them depending on their preferences and needs.
Four years later, italki completed its angel financing round and further expanded its selection of languages. This move helped it increase its client base by becoming more competitive.
In 2016, it completed another angel financing round, this time with a Chinese company. It also rebranded its logo and relaunched its website and mobile apps.
In 2019, italki continued its international expansion by acquiring Lingbe, a language company based in Spain.
Currently, italki offers 130+ languages, the most popular being English, Spanish, and French. It also prides itself in having 10,000+ teachers and 5,000,000+ students worldwide.
Starting Out
It's very easy to sign up to start using italki. You can sign up via Facebook or even by using your Google/Apple ids. You will then be directed to a screen where you will have to select your target language, your level (Beginner, Elementary, Intermediate, or Advanced), your native language, your location, and timezone. It's key you do this last part correctly so italki shows you the teachers' schedules in your local time.
Usually, italki offers free trials for new students. The sessions are 30 minutes long. Each user has a limit of three trial sessions. You can book a session with three different teachers and then decide who's the best fit for you.
Finding a Teacher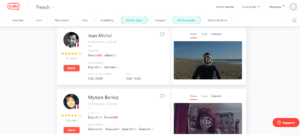 For starters, it's important to mention italki offers two kinds of teachers: professional teachers and community tutors. Professional teachers charge higher fees than tutors. However, unlike Verbling, italki does not require teachers/tutors to be native speakers of the language they teach. As long as they speak at a near-native level, they can teach the language of their choice.
When looking for a teacher, you have several options to narrow down your search. You can filter teachers by their country of origin, the language(s) they speak, their price, their availability, their type (professional teacher or community tutor), their category (general, business, test preparation, kids, or conversation practice), their native language, and whether they allow instant bookings or not.
How Much Do Lessons Cost?
This varies widely depending on whether you book your lessons with a professional teacher or a community tutor and the duration of the lesson. The lowest price I've seen is $5 for 30 minutes, but I've also come across $60 lessons for test preparation.
Once you determine if you prefer a teacher or a tutor, you will have to decide what kind of lessons you need. When it comes to tutors, it's fairly simple since lessons usually center around conversation practice. However, the problem comes with professional teachers. Some of them offer several options which include conversation practice, test preparation, pronunciation, accent reduction, intensive courses, workshops, etc. The kind of lesson you choose will impact the price you pay.
On average, you could say the hourly price ranges between $10 and $25. However, keep in mind you can get a discount of up to 10% or 11% when buying lessons in bulk.
Italki accepts payments by credit/debit card (only Visa, Mastercard, and American Express), PayPal, Skrill eWallet, and bank transfer. In addition to the teacher's rates, you will have to pay a processing fee of around 4% of the total.
Many teachers offer their services on different platforms. For example, I've seen teachers advertise on both Verbling and italki, although their rates on italki are usually cheaper.
How Do Lessons Work?
Italki allows you to see your teacher's schedule so you can book your lessons. The green slots indicate the times they're available. Depending on the teacher, lessons can be 30 minutes, 45 minutes, 60 minutes, or 90 minutes long. Some teachers include 5-minute breaks during each lesson.
Teachers have different styles. During your trial lesson or first lesson, you will discuss your needs and preferences with your teacher. After that, your teacher will provide you with activities and learning materials for each lesson. It could include reading comprehension, listening exercises, pronunciation exercises, conversation practice, repetition, etc. Your teacher might even assign homework for additional practice.
Additional Tools
Besides one-on-one lessons, italki also hosts a supportive community and a good number of tools to enhance your learning experience. These tools are:
Articles. You can find a significant number of articles on language learning such as tips, motivation, interviews, etc.
Notebooks. Here you can post an entry and have it corrected by native speakers.
Answers. Post questions about your target language and receive answers the same day.
Discussions. Start a discussion about anything language-related.
Language hacking. Currently offered in French, Italian, German, and Spanish, it assigns a series of "missions" where you have to upload a video about a specific topic and receive feedback from the community.
Find language partners. Interested in participating in a language exchange? Here you can find native speakers of your target language with whom you can practice via Skype or whatever method you both choose.
Language challenge. Now and then, italki launches challenges like completing x number of hours. You can earn digital badges, certificates, or even coupons and vouchers for your future lessons.
Pros
There are several pros of using italki:
Easy signup.
Formal and informal instructors.
Lots of teachers to choose from.
More affordable prices than the competition.
Lots of tools to enhance your learning.
Flexible time slots with 30-minute, 45-minute, 60-minute, and 90-minute sessions.
Integrated website and mobile app.
Supportive community.
Cons
On the downside:
Not all teachers are native speakers of the language they teach.
Not all teachers are certified.
The process of looking for teachers could be improved. Although you can filter them by using certain criteria, it's not possible to sort them by the lowest-highest price, for instance.
Complicated pricing structure.
Discover credit cards are not accepted.
Coupons/discounts are usually rolled out only for new students.
Conclusion
With numerous teachers, powerful learning tools, competitive prices, flexible schedules, and an integrated website and mobile app, italki is no wonder one of the strongest language learning platforms on the market. We give it an overall score of 9.5/10.
Its prices can be confusing. They're not flat rates like Verbling that just charges x amount per hour regardless of your learning objectives. I think italki should look into that and make things simpler. Other than that, I highly recommend you check it out and decide for yourself.
Have you tried italki? What language did you study there? How was your learning experience? Let me know in the comments below. Au revoir, les amis!