Are you looking for a Verbling review? Look no further! You've come to the right place. Chances are you have come across this language site when looking for a teacher/tutor online, and you would like to know if it works or not.
In this post, I will explain to you how Verbling works and other things such as pricing, scheduling classes, etc. I will also share my experience with you so you can make a more informed decision. Are you ready? Let's jump right in!
What is Verbling?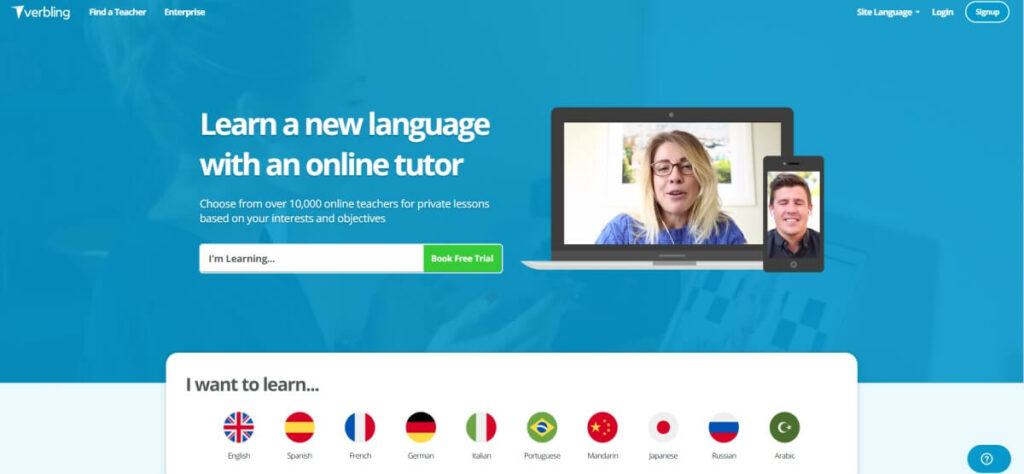 Verbling is an online language learning platform founded by Jake Jolis, Mikael Bernstein, and Gustav Rydstedt in 2011. The company headquarters are located in San Francisco, California.
Verbling focuses on teaching languages via video chat and connects language teachers with prospective students. Teachers advertise their services, and students get to choose who they want to study with. Think of it as a marketplace.
Currently, Verbling offers lessons in 62 languages including English, Spanish, French, Italian, Portuguese, German, Russian, Mandarin, Japanese, Arabic, among others.
Starting Out
You can sign up using your email or Facebook account. It's very important to complete your profile correctly, especially the currency and time zone fields. You must be 13 or older to sign up! The only exception is Belgium where the minimum age is 16.
Once you complete your profile, you will have access to your dashboard. Here you will be able to add lessons and see past and upcoming lessons as well.
You can also see your current or favorite teacher(s) in this section. If your teacher leaves you any homework, you will find it here.
Additionally, you can build vocabulary lists or "decks" and listen to their pronunciation.
Verbling has both a website and an app. You can use both interchangeably depending on your needs.
Looking for a Teacher
When looking for a teacher, you can click on his profile and learn more about him. You can watch a short introduction, read his bio, stats, and see his availability as well as students' reviews. Below is a sample introduction.

If you have any questions, you can send the teacher a private message, and he will get back to you shortly.
What Are Teachers Like?
Verbling teachers come from all walks of life. Some have an Education degree or a teaching certification, while others don't. However, Verbling is strict regarding two things: Teachers can only teach their native language and must have verifiable teaching experience.
There is no standard curriculum. Each teacher has a different teaching style and provides his students with different learning materials.
Teachers are located all over the world. For example, my last French teacher lived in China. You won't have major problems when looking for a teacher in your time zone.
You can filter teachers by language, nationality, gender, availability, price, and skills. Furthermore, you can sort them by popularity, activity, or price.
How Much Do Lessons Cost?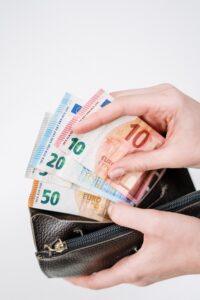 Teachers are not Verbling's employees. They work on an independent basis. Therefore, they're allowed to set their own rates.
I would say the average hourly rate is between $15-$25 (prices in U.S. dollars). However, keep in mind that some languages are more competitive than others in supply terms. For some languages like German, you can see hourly prices as high as $50 or $60.
Some teachers offer 30-minute trial lessons for $6. This price is determined by Verbling regardless of the teacher's rate.
In addition to the teachers' fees, you will have to pay a 6% convenience fee. This fee applies to the total amount paid.
The good news is you can get a discount when buying in bulk. Instead of booking lessons one by one, you can book 5, 10, 20, or even 50 lessons and get a good discount.
There are also online coupons you can use. Although most of them are for new students, Verbling occasionally rolls out discounts for the rest.
Payment options include credit cards (even American Express and Discover) and PayPal.
How Do I Schedule Lessons?
This is fairly simple. Once you have selected a teacher and paid for your lessons, you can check your teacher's calendar. The green slots indicate your teacher's availability, while the rest will be grayed out.
If you set up your profile correctly, you will see the available time slots in your local time so you don't have to worry about any calculations of time differences.
You can schedule your lessons one by one or select the same day and time for future lessons.
All lessons expire 6 months after purchase, but if you don't use them within that time, you will need to reactivate them. If they go unused after one year, you will lose them forever.
How Do Lessons Work?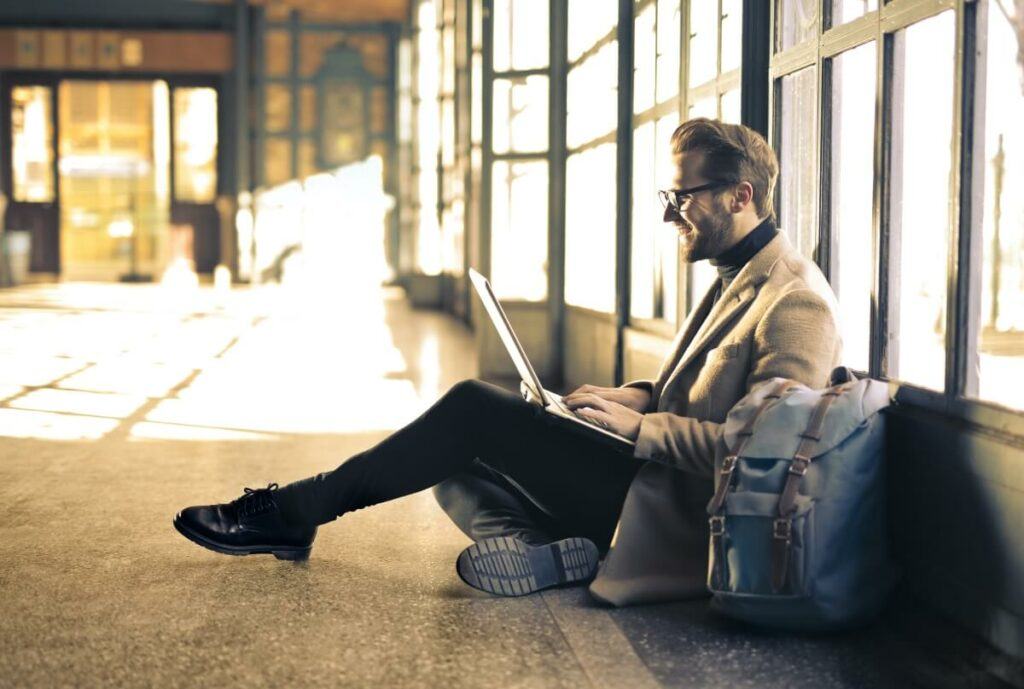 Each lesson is 60 minutes long. Verbling sends you a reminder via email, text, and/or the app 24 hours before your lesson starts.
There is an integrated video chat feature on the platform. You just have to join the lesson and wait for your teacher to join.
Honestly, the platform video chat isn't that good. We used it in the beginning, but then my teacher suggested we use Skype. This worked out better for us.
If you happen to use the platform video chat, you will have access to an integrated online translator when needed. When using Skype or some other similar video chat, you will have to use Google Translate or some other online tool.
During your trial lesson or your first lesson, your teacher will ask you about your learning goals, interests, etc. This way, he will know what materials to use and what activities to do. He might have you read articles, practice pronunciation, explain a video, etc.
After the lesson, Verbling will send you an email so you can rate your teacher. This is optional, but I recommend you do it at least once. 
Other Tools
Verbling also has a useful community section. Here you can explore decks created by other teachers. These decks cover a variety of topics such as emotions, colors, French expressions, etc. This is a great way to learn vocabulary and practice your pronunciation.
You can join or create discussions about languages or related topics. It's possible to interact with other teachers and students.
The community section also hosts a lot of articles about languages like learning tips, mistakes to avoid, etc.
Did you know that Verbling allows you to buy gift cards? Standard prices start at $25, but you can enter any amount you want.
Pros
Easy signup.
Integrated website and mobile app.
The site and app are easy to navigate and use.
All teachers are native speakers of the language they teach.
All teachers have verifiable teaching experience.
Supportive community.
Cons
The video chat is not that good. It needs to be upgraded. Many teachers and students prefer to use Skype instead.
Lack of flexibility when it comes to lesson duration. All lessons are one-hour long by default.
While it offers several extra learning tools, they're behind in this regard when compared to competitors like italki.
Not all teachers are certified if that's what you're looking for.
Discounts are usually rolled out only for new students.
Conclusion
Verbling is a great tool to learn any language. It has an ample variety of teachers all over the world, so finding one in your target language won't be a problem. Prices vary, but the good thing is you don't have to commit to taking classes with a particular teacher. You can change teachers anytime.
With a website and an app, Verbling is very easy to use. It also offers several tools to improve your learning experience.
Ironically, the only thing they should improve is their video chat. That's why today we'll rate it a 90.
Have you used Verbling? How did you like it? Let me know in the comments below. Au revoir!
Let's Learn French!

Are you ready to take your French to the next level? I'm glad you are! Whether you are a beginner or an intermediate/advanced learner, I can recommend a few options for you.
For starters, if you're someone who likes to study on his own, I recommend the following programs:
Busuu
Mondly
Rocket Languages

However, if you would like to hire a teacher/tutor, I recommend you try the following:
italki
Lingoda
Preply

Feel free to check my site to learn about more resources. Don't forget to check back often to learn more about the French language and culture. Salut!