Would you like to learn French in a simple way, let's say short interactive lessons? Something you can study at home or wherever you are? I bet you're also looking for an affordable program with some good perks included, right? Then Busuu is for you!
In this Busuu French review, I will explain to you how their system works, any special features they offer, their pricing, the pros, and cons, so in the end, you can decide if this is worth your time and money. Let's get started, shall we?
Background
The company was founded by Bernhard Niesner and Adrian Hilti in 2008. They currently offer courses in 12 languages, and more than 100 million people have taken them.
In 2015, they partnered up with McGraw-Hill Education, one of the largest publishers worldwide.
They currently offer a limited free membership and a premium membership for individuals. They also offer special courses for corporations. Some of their clients include global corporations like Adidas, Puma, and Uber.
Courses
You can use Busuu to study one of the following languages:
French
English
Spanish
German
Italian
Portuguese
Chinese
Japanese
Polish
Turkish
Russian
Arabic
In the case of French, they offer four courses, which are:
Complete French
French Pronunciation
French for Travel
French for Business
How Does the System Work?
Once you sign up (it's free), you will be able to choose whether you want to start from the beginning or take a placement test to determine your level.
Then you have to choose from a list of goals, and the platform will give you a deadline and determine how much time you need to study every day to reach that goal. You will then have access to the lessons.
Each lesson comes with audio and video. You will learn vocabulary through flashcards and perform exercises like filling up the blanks, unscrambling words, answering listening comprehension questions, and translating phrases. You will repeat the same concept in different ways for a better understanding.
At the end of each level, you can take a test and receive an official certificate for your records.
Basic Membership
The basic membership is free and will give you access to one language only. However, as you can imagine, it's limited, and you will only be able to take the first five lessons.
Other features for free members include access to lesson reviews and a community where you can find native speakers of your target language. It's something like a social network where you add friends to your contacts list.
One of the things I like about this platform is that you can complete written or oral exercises and get corrected by native speakers.
Premium Membership
There are two premium memberships: Premium and Premium Plus. The price difference between them is less than a dollar per month, so many people opt for the Premium Plus plan.
Some perks include access to all 12 languages, personalized study plans, official tests from McGraw-Hill, and offline mode.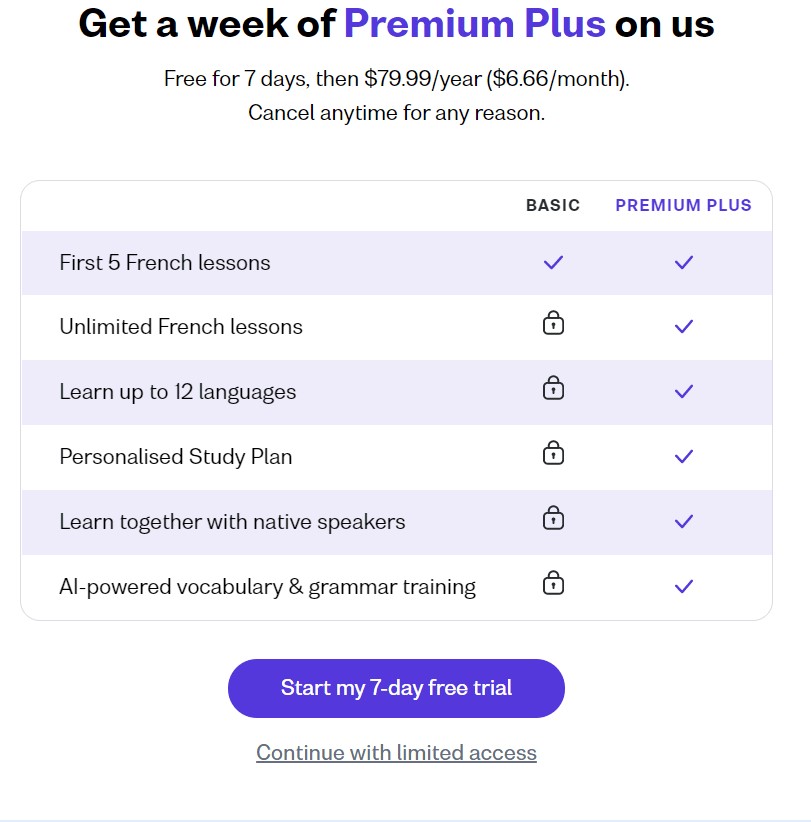 Pricing
Now you must be asking yourself how much all of this costs, right? Fortunately, the courses are very affordable.
For starters, you can choose whether you want to be billed every month, every year, or every 2 years. At the time of writing this post, these were the current prices:
| Frequency/Plan | Premium | Premium Plus |
| --- | --- | --- |
| Monthly | $9.99/month | $13.99/month |
| Yearly | $5.83/month billed annually | $6.66/month billed annually |
| Biyearly | $5.41/month billed biannually | $5.74/month billed biannually |
Busuu offers a 7-day free trial, but you need to provide your credit card info. All the courses come with a 14-day money-back guarantee. You can cancel anytime within this period. No questions asked.
Live Lessons
Whether you're a free member or a premium member, you can always enroll in live lessons. These are 30-minute one-on-one lessons with a real teacher.
Busuu allows you to buy individual lessons or in groups of 3 or 5. These are the current prices:
| | |
| --- | --- |
| 1 lesson | $14.99 |
| 3 lessons | $40.99 |
| 5 lessons | $57.99 |
You have six months to take your lessons. Otherwise, you lose them.
What I Liked
Let's talk about the pros of Busuu.
The platform is simple and easy to use.
Lessons can be taken on the website or app for your convenience.
Affordable courses.
If someone referred you and you sign up through the app, you get a 30-day free trial.
Access to a diverse community of learners from all over the world.
Lessons are short and include fun facts about the French language and culture.
Ability to get an official certificate.
What I Didn't Like
Unfortunately, there are several reasons I didn't like and could influence my decision about using Busuu. Here are some of them:
Only beginner and intermediate levels available.
Lessons are somewhat repetitive and rely too much on translation.
Premium membership does not include access to live lessons.
I have to provide my credit card info for the free trial.
Live lessons are too short and somewhat pricey compared to other options like italki.
There were not too many French teachers on the platform.
Who Is It For?
Busuu is for you if you:
Are a beginner.
Like structured plans.
Can commit to goals.
Like short lessons.
Busuu is not for you if you:
Are an advanced speaker.
Need an intensive course.
Get bored easily.
Need constant supervision.
Final Verdict
Busuu is a solid program to learn French. It has many perks for its premium users and is a great option for people of all ages.
That being said, will you master French by the end of the course? Certainly not. That can take years and involves a lot of work. However, all things considered, it's a good starting point.
If you can study on your own and are looking for something simple, I recommend this course. On the other hand, if you need something more intensive and/or with teacher supervision, I recommend other options like italki or Lingoda. Their teachers have more competitive rates, too.
I hope you found this Busuu French review helpful. Feel free to leave your questions and comments in the section below. Au revoir, les amis!