If you have been looking for options to learn French, chances are you have heard about Français Authentique. This is one of the most renowned language platforms online. But does it work? Is it expensive? What makes it different from the other platforms out there? I'm sure you have these and more questions.
In this Français Authentique review, we will try to answer the most common questions you may have so you can make an informed decision. We all know that learning a language requires an investment of some kind, be it time, money, or both.
What is Français Authentique about? Is it worth it? I'll give you my opinion based on my experience with it. C'est parti!
What is Français Authentique?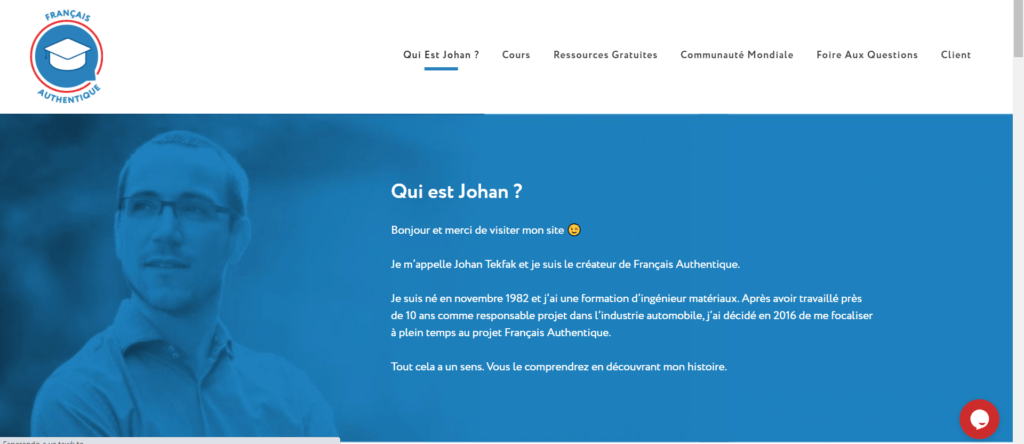 Français Authentique is an online language platform created by Johan Tekfak in 2011. The motto is "Apprendre le français en prenant du plaisir", which translates into Learn French while having fun.
Johan is an engineer by trade that worked in the automotive industry for 10 years. He lived in Germany but didn't speak any German nor English. He said he'd had a hard time learning those languages the traditional way. He then decided to take a different approach. He subscribed to as many podcasts as he could, and he listened to them on his way to work every morning. The results? He was able to start speaking English after three months.
Johan saw the need for creating a platform that would allow others to learn a language in an easier way. Since he is a native French speaker, he decided to focus on French. Even though it's one of the most studied languages around the world, many people struggle to learn it. They might understand what's being said, but when they try to speak it, they just can't. That's how Johan conceived the idea of Français Authentique.
He worked on Français Authentique for five years while keeping his full-time job, but he quit the latter in 2016 to focus solely on his language platform.
Starting Out
Français Authentique is based on 7 rules or principles:
Rule #1: The secret to improving your French.
Rule #2: Repetition.
Rule #3: Not enough time for learning?
Rule #4: Don't get stressed. Develop the Kaizen spirit.
Rule #5: Learn while listening to stories.
Rule #6: Learn based on context.
Rule #7: Learn from Français Authentique.
You have to join their mailing list to have access to the free course with the 7 rules. Once you do that, you will periodically receive an email with one of the rules. You will be able to watch the video for each rule and download the text and audio files for further review.
Free Resources

Français Authentique offers lots of free resources for all people interested in learning French. In fact, I found them through their free videos online. Johan uploads videos regularly where he explains vocabulary, expressions, and offers advice to French learners. You can find these videos on the platform and YouTube.
Podcasts are another popular tool. Sometimes we prefer to listen to something while cleaning the house or driving. This is the perfect solution.  Français Authentique offers a myriad of podcasts to choose from. They cover a wide array of topics. Each podcast is about 10 minutes long. You can find them on their site, Soundcloud, iTunes, and all the major podcast applications. Additionally, you can download the audio and text files to listen to on the go even if you don't have internet.
Johan uploads two videos and two podcasts each week. As you can see, he's very active on the platform.
You can also find many quizzes to test your knowledge. These quizzes are great for testing your grammar.
Last but not least, Français Authentique features a mobile app to learn on the go. The app focuses on the free video and audio resources that you can find on the desktop site. It's very convenient when you don't have access to a computer.
Paid Courses
If you decided to take your learning to the next level, it's time then to get one of the many courses offered. All the courses include audio and text files, but the more advanced ones include video lessons and more content. There is a special course designed for learning French in 30 days. Other courses focus on idiomatic expressions, while others focus on pronunciation or dialogues. But it doesn't stop there. Johan also created a course for helping those interested in getting a job in France, and a personal development course for helping all those people who don't think that they can learn. He doesn't only concentrate on teaching grammar or vocabulary, but he also cares about helping others overcome their fears or insecurities when trying to learn and speak French.
At the time of writing this review, the basic course costs 49€ ($58.50), while the most expensive course costs 199€ ($237.50). Most courses cost 149€ ($177.84) or less, depending on the complexity level.
If you're not sure which level you are at, you can take a free assessment and then determine the best fit for you. Additionally, you can take a sneak peek at each course to get a better idea of the content included. Payments can be made via Visa, Mastercard, or PayPal. All courses come with a 30-day guarantee. If you are not 100% satisfied with the results, you can get your money back, no questions asked.
L'académie Français Authentique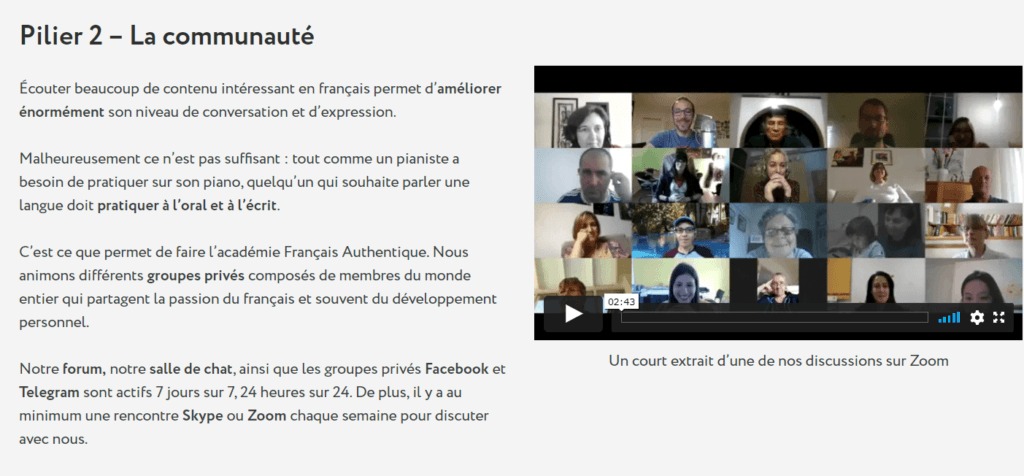 This is my favorite part. Français Authentique's community is its best asset by far. While the paid courses are great for learning, there is no human interaction whatsoever. By joining the academy, you become a member of one of the largest French learning communities worldwide.
The academy was created in 2016 and is managed by four members of Johan's team. They are all native French speakers, which is a great plus.
When you join the academy, you have access to a ton of exclusive content that includes video, audio, and text. There are currently over 50 modules that cover a wide array of topics such as French culture, French history, French learning, personal development, among others. A new module is added every month.
Talking about the community, it's one of the largest, most active, and most varied I've ever seen. There are thousands of students from all over the world with whom you can interact as much as you please. There are several ways to participate in the community. There is a private Facebook group. a Telegram group, a Zoom group, and a Skype group. The community is very active on Facebook and Telegram daily, and there is always at least one or two Zoom/Skype meetings per week.
Johan supervises everything closely, and he regularly does live sessions to interact with the community members. You can ask him questions and even offer suggestions for future content. He does listen. Trust me.
The academy offers two kinds of subscriptions: monthly (24,00 € or $28.70) and yearly (239,00 € or $285.80). All prices are in euros, so the price in dollars fluctuates depending on the conversion rate.
The only bad thing about the academy is that you can only join it on specific dates. For instance, the next enrollment date is January 11, 2021. If you miss that date, you will have to wait for a few months. If I'm not mistaken, they only welcome new students twice a year.
Pros
Now that we know what Français Authentique is about and how it works, let's talk about the good points I found:
Affordable prices. The prices are reasonable and fall within the average price range in the industry. Most importantly, you get good value for your money.
Everything is online. You can study on your computer or phone wherever in the world you are.
There are many free resources if you would like to test the waters before committing.
All the paid courses come with a 30-day guarantee.
The content is huge, varied, and well-thought.
Johan radiates positive energy, and that can be seen in the caring community you become a part of.
This is not your traditional language course. Everything is explained in detail and was designed in such a way to let you learn in a fun, natural way.
Cons
Although Français Authentique is an excellent language learning platform, it comes with a few cons nonetheless:
You don't have access to one-on-one lessons. If you're looking for a private teacher/tutor, this is not the place.
This is not for beginners, either. If you're starting your learning journey, I recommend other options out there. To use Français Authentique, you need to be at least at an intermediate level.
Everything is in French. Unlike other courses/platforms, there are no English translations of any kind. This could be a good thing or a bad thing depending on how you see it.
I think the academy should be more flexible regarding its admission process. Keep in mind this not only applies to new students but ex-students as well. If for some reason you cancel your membership, you will have to wait until the next enrollment date to be accepted again.
Final Verdict
Français Authentique is a solid option for anyone interested in learning French. With lots of content, a caring teacher, and a supportive community, it's definitely one of the best online learning language platforms there are. Our score is 9/10.
I think the pros outweigh the cons, so if you would like to improve your French, this is the place to go.
Had you heard about Français Authentique? Would you like to join? Let me know in the comments below. Au revoir, les amis!