One of the best ways to learn and practice a language is through conversation exchanges. The idea is to find a native speaker of your target language so he helps you with it while you help him with your native language. It's a win-win if you ask me. There are many online platforms out there, so choosing one can be an overwhelming task. That's why today I'll share with you a Tandem app review.
With over 1,000,000 users, Tandem is one of the most used language apps in 2020. You can find people from all over the world. As of April of this year, the app supports over 160 languages, so unless you're trying to learn an uncommon language, you'll be able to find someone who can help you.
Getting Started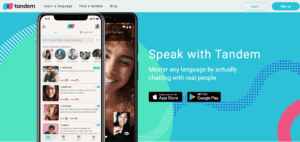 Tandem is available for both iOS and Android. Once you download the app, you will have to create an account. To do this, you can use your Google, Facebook, Wechat, or Weibo accounts. It's also possible to sign up by using your email.
Next, you have to upload a clear picture of your face. It's mandatory to upload a picture of yourself. There are no faceless profiles on Tandem, unlike other similar platforms.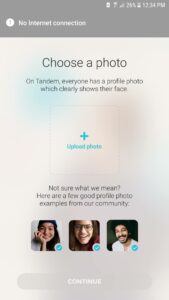 Then you have to answer a few questions like your gender, native language, additional languages you speak (if applicable), which language(s) you want to practice, and the proficiency level of your target language (beginner, intermediate, advanced). You also have to indicate what topics you enjoy discussing, what your perfect language partner is like, and what your goals are.
Once you're done setting up your profile, you have to wait for Tandem's approval, which can take up to 7 days unless you go pro. More of that below.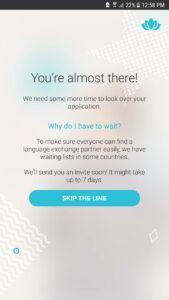 Finding a Partner
Finding a partner is really easy. You can filter users by country, gender, or age. Additionally, you can select if you just want to talk to new members or members with references. To find people in a specific city, you have to go pro.
From what I've seen, most users seem to be in their 20s or 30s, but that does not mean you won't find people older than that. In fact, there is a significant number of users in their 40s and 50s, so finding people within that age range won't be a problem.
When looking for a partner, you will see a list. It starts with new and featured members. Each user has a "topic" next to his profile picture. This topic can be quite general like practicing a language with a native speaker or something more elaborate like talking about movies from the 50s.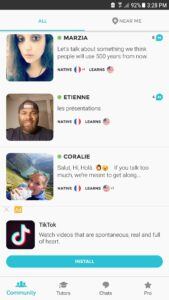 To learn more about a specific user, click on his profile. There you will be able to see his most recent activity, location, local time, interests, goals, references (if any), communication preferences, and additional pictures. It's important to pay attention to this specific section because this will tell you if you're a good match or not. For instance, you might be looking to chat with someone via video, but some people don't like that and prefer to interact with others differently.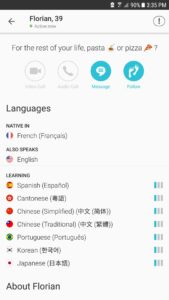 Contacting Someone
When you feel you found a possible partner, you can follow that person just like you would on social media. Then you can send a message to introduce yourself and ask if he/she is interested. Even if the user's video/call buttons are not grayed out, it's not good etiquette to just call them.
The chat feature allows you to send text, images, and audio messages. It also has a built-in translator in case you need it. When you establish contact with someone, there is an option that allows you to correct your partner's mistakes.
You can change your filters as you deem fit, especially when you're not getting good results.
If you're a pro user, you can look for users in your local area in case you're interested in meeting in person.
Tutors
Although Tandem is aimed at those people interested in engaging in a language exchange, it has a small Tutors section. Some tutors are professional teachers, while others are just native speakers. They set their rates on Tandem. By clicking on their profile, you can learn more about their background, teaching style, and references.
The selection of tutors is limited. If you're interested in looking for a teacher/tutor, I recommend you check it out here instead.
Tandem Pro
We mentioned above that some features are only available for pro users. Below is the complete list of benefits:
Unlimited message translation.
Look for members in specific cities.
Connect with members in your local area.
Become a featured member and appear at the top of searches.
See who's viewed your profile.
No ads.
For all those interested, Tandem offers a free trial period. You will need a credit card to sign up for it though. If the trial ends and you did not cancel it, your membership will automatically renew based on your subscription settings.
As of August 2020, Tandem offers 3 types of subscription:
1 month for $6.99 plus tax.
3 months for $3.99 plus tax (billed for the total amount).
12 months for $1.75 plus tax (billed for the total amount).
The Good
Now that we know more about Tandem, let's talk about the good things:
A good number of features are available for basic users. Unless you need specific features, you don't need to go pro.
One of the most used language exchange apps worldwide.
Easy signup.
Simple and easy to use.
Filters to customize your partner search.
No faceless profiles.
Ads are not that intrusive on the basic version.
Integrated video/call feature within the app.
Low prices for the paid version.
The Bad
As much as some people like it, Tandem is not perfect. These are some areas they could improve on:
Activation is not immediate. Once you sign up, you have to wait up to 7 days for approval.
Some members' profiles have weird, vague topics on them making their intentions unclear to other members. On the other hand, topics can be so specific that we have to rule them out from the beginning.
Although the pro version is affordable, it does not add too much value to the app.
It's hard to find a partner if you're a guy. Women seem to be wary of men and prefer other women. On the other hand, men seem to prefer female partners. No wonder it's known as the Tinder of language apps.
Do I Recommend It?
To be honest, I have mixed feelings about this app. Do I recommend it? (Drum roll, please), yes and no. Tandem is hit-or-miss. Some people have been lucky and are in love with it, while others like me, are in a love-hate relationship. I have installed and uninstalled it plenty of times with the same result.
You can message a bunch of people, but that doesn't guarantee anything. Some will thank you but tell you they're busy, while most won't even reply… if you're a guy. Your luck may be different if you're a woman. Although it was not designed for dating, it seems many users are in it just for that. If you're serious about practicing languages, I'd recommend being cautious with it.
For the community alone, I rate it a 5/10. The main point is practicing languages, and even though the app is well designed and simple to use, it's the community itself that doesn't help. There are many dating/hookup apps out there, but unfortunately, people looking for that have invaded Tandem.
Having said that, I recommend you try it and see for yourself. Your luck may be different.
Conclusion
Tandem is one of the most used language apps on the market. With over 1,000,000 users worldwide, it's worth taking a look. It hosts speakers of 160+ languages, making it easy (in theory) to find a language partner.
The app is easy to use, and it's not necessary to go pro to make the most out of it. The only problem, as I stated above, is the community itself. Tandem is not to blame, but it is what it is.
Have you used Tandem? Did you like it? What would you improve? Do you recommend it? Let me know in the comments below. Au revoir, les amis!