Are you someone who likes to learn languages on his own? Do you even have time to attend classes in person or online? Would you rather study at your own pace from the comfort of your home? Well, then Rocket Languages is for you!
This company has been in the market for almost 20 years and has received lots of positive reviews from both experts and students alike. But how does it work? What does it offer? How much does it cost? Is it worth trying? I will answer these and other questions in this Rocket Languages review. Are you ready? Let's get started!
Rocket Languages' Story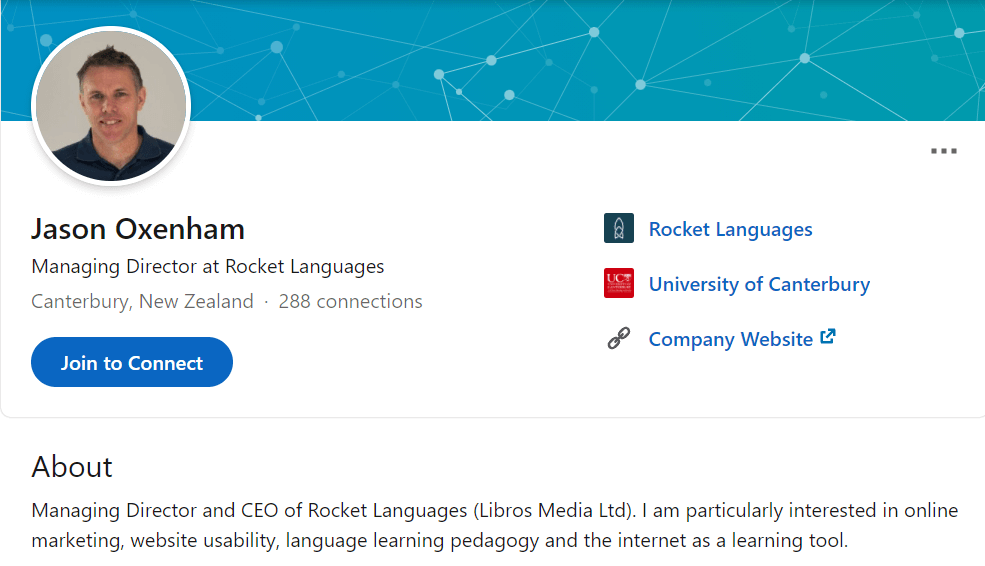 Rocket Languages was created by Jason Oxenham and Mark Ling in 2004. Jason had been trying to learn French for many years but was unsuccessful. The traditional approach – textbooks, live classes, and the like – didn't seem to work for him. Even worse, his school didn't offer language classes, and he was tone-deaf. He didn't have any French-speaking friends or acquaintances, so that wasn't an option, either.
That was when he decided something had to be done. He spoke to his friend Mark, and together, they worked with polyglots, technical experts, and linguists to come up with a revolutionary language software: Rocket Languages.
In 12 months, they created their first two courses: Rocket French and Rocket Spanish. Most of the reviews they received were positive, and that encouraged them to create more language courses.
Rocket Languages' Four Pillars
Jason and Mark realized that the foundation of any program should be understanding, but to achieve that, a program has to have a few core characteristics.
According to them, a successful language program should be:
Comprehensive.
Immersive.
Effective.
Give a genuine sense of progress and achievement.
The result? A connected world through the power of language.
Languages Offered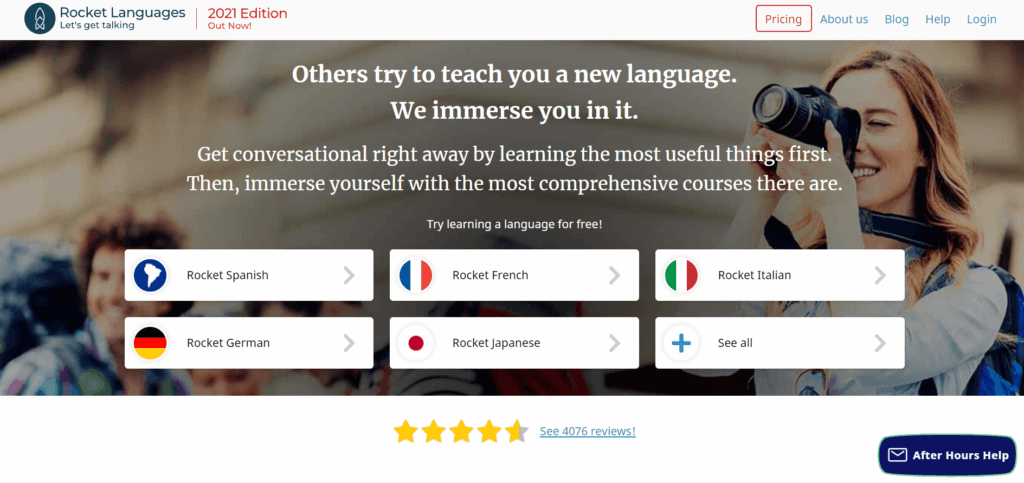 Currently, Rocket Languages offers the following courses:
French
Spanish
Italian
English
German
Japanese
Chinese
Korean
Hindi
Portuguese
Arabic
Russian
ASL (American Sign Language)
All the courses offer a free trial with interactive audio lessons, flashcards, and quizzes. Try your favorite language, and if you like it, then buy it. If not, you don't have anything to lose.
The Courses
The courses are divided into Beginner (Level 1), Intermediate (Level 2), and Advanced levels (Level 3). Each level is divided into 7-8 modules, and modules are further divided into lessons.
Each lesson is structured in the following way:
Interactive audio. A 15-40-minute audio track that covers a different topic per lesson. You can stream and even download it if you want.
Flashcards. Designed to reinforce what you just learned.
Hear it! Listen to a word or phrase and repeat it. There's an option to record yourself available.
Write it! Write the word or phrase you hear and see if it is correct.
Know it! Translate what you see on screen. Record your voice and check the result.
Quiz. Short quizzes to test your knowledge.
Play it. Play a conversation as much as you want. Designed to train your hearing and pronunciation.
Each course covers a different topic that also teaches us cultural aspects of the language at hand.
Additionally, some languages offer Travelogues, which are travel dialogues with lots of vocabulary, useful phrases, and conversations for your next trip!
Cost
The courses have different prices, so you would have to verify the specific course you want, although most prices are similar. Let's say you want to study French. At the time of writing this post, these were the regular prices for the French courses:
Level 1 – $149.95
Levels 1 & 2 – $299.90
Levels 1, 2, & 3 – $449.85
Travelogue – $149.95
However, keep in mind that Rocket Languages periodically rolls out discounts. Today, for example, I could save between 20% and 44% by applying the coupon ROCKETDEAL. Of course, the discount you get depends on the course you buy.
Payment
If you're interested in buying a course but don't have a credit card or don't want to give out your info, then you have two options:
Make a bank deposit and send them an email.
Pay through PayPal.
Checks and money orders are no longer accepted.
Rocket Languages offers 6-month payment plans for your convenience. For example, if we wanted to buy all three French courses like this, we would be paying $47 a month. Honestly, I'd never heard of language courses being sold this way.
If you're not satisfied with your purchase, you can request a refund within 60 days of purchase. No questions asked.
What Do Others Say About It?
For starters, this system is used by large corporations like The Cheesecake Factory and Deloitte. It has also been featured in renowned publications like The Guardian, Daily News, and Mashable. That should tell us something.
Most individual clients seem to like the lessons, too. They point out that they like the simplicity, the lifetime access, the conversations, the quizzes, among other factors. On the downside, many clients seem to have problems with the audio, and a few mentioned the courses are expensive compared to the competition.

The Positive
Now that we know a little more about the structure of Rocket Language courses, let's take a look at some of the positive things:
Ample variety of language courses.
Simple lessons to follow.
Lessons can be downloaded for further study.
Lessons can be taken on the computer and/or mobile apps (both Android and iOS supported).
Lifetime access to the courses.
Content is updated regularly.
Backed by renowned organizations like PC Mag and the European Business Magazine.
Free trials. No credit card is needed.
Family, business, and schools/non-profit discounts.
Payment plans are available.
All courses are refundable within 60 days of purchase.
Learn wherever in the world you are!
The Negative
These are some of the things I might consider against buying Rocket Language courses:
Lessons don't have any video, just audio.
Not all courses offer advanced lessons.
Not designed for people that need more guidance and/or interaction.
Some people might find them boring.
No option to study with a tutor/teacher if I wanted to.
More expensive than other similar courses in the market.
Final Verdict
I hope I answered all the questions you might have about Rocket Languages. Do I recommend their courses? I sure do. Of course, they're not for everyone, but if you're not sure, I recommend you sign up for a free trial. Check it out for yourself and see if you like it before buying any course.
With an ample variety of language courses and easy-to-follow, simple lessons, Rocket Languages is one of the best language courses out there. It's a little more on the expensive side, but I think it's worth it. Well, that's me. You might think differently, but please, please, try it out and then decide.
Well, that's all for today. I hope you enjoyed this review. If you did, please like it and share it with others to make this community grow. If you have any questions or comments, feel free to leave them in the comments section below. Au revoir, les amis!