Learning a language is not an easy task. That's why it's essential to learn how to find a language exchange partner. This does not replace a teacher by any means but is rather a useful complement.
There are several benefits of engaging in a language exchange with a native speaker of your target language. But where do you find such people? What should you look for when choosing someone? Is it easy to find a language exchange partner? What should you avoid? Is it even worth it?
Don't worry. Today we will try to answer as many questions as you might have about this subject. We will also give you some tips to make the most out of this experience. Are you ready? C'est parti!
Conversation Exchange
This is one of the best sites to find a language exchange partner. I've been using it successfully for years and am sure you can benefit from using it, too.
Here you can find people from all over the world. French is one of the most popular languages on the platform, and many French speakers are looking to practice another language with a native speaker, probably yours!
Most people meet online through Skype, Zoom, or some other video platform, but others prefer to meet in person or exchange emails/texts/letters. What's even better, it's absolutely free!
I highly encourage you to try it out. You can read a full review here.
My Language Exchange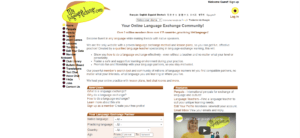 This is similar to Conversation Exchange but is more limited if you're a free member. For instance, if you would like to contact someone, you cannot initiate a conversation with that person unless you're a gold member. You would have to wait until someone contacts you, and then, you can reply. That's the only thing I don't like about this site.
My Language Exchange allows you to filter users by language, country, age, gender, and contact preference. The site also provides a few lesson plans to help you in case you don't know what to talk about during your sessions.
It's a good platform, but to make the most out of it, it's necessary to get a gold membership. It's not that expensive, though. Prices range between $6 and $24. You can do one, three, or twelve months.
Tandem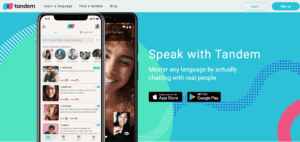 Unlike the two sites mentioned above, Tandem has an app for your convenience. Many people use their smartphones to surf the web, so this comes in handy.
Both the desktop and mobile versions have integrated video software to talk to your partner. However, be advised that not everyone likes video calls, so make sure that doesn't pose a problem.
I have mixed feelings about Tandem since I haven't been very successful at using it. However, your experience may be different from mine. Why don't you try it out? Read my full review here.
Facebook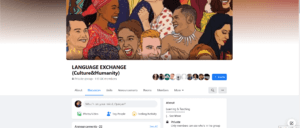 The truth is, language exchange sites are a dime a dozen. I can't list all of them here, but the ones I mentioned above are the most important. However, did you know you don't have to limit yourself to those sites? You can also use Facebook!
Loved by some, loathed by others, Facebook is a great tool to connect with potential language exchange partners. There are many language groups on this platform. Some of them focus on specific languages.
I recommend you check out the following groups:
Language Exchange (Culture & Humanity)
Let's Exchange Languages
Foreign Language Students Worldwide
Let's Learn French
Learning French
italki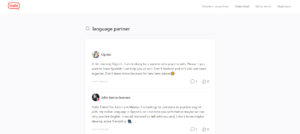 Many people think of italki as a site where you can find a teacher/tutor and nothing more. However, there is nothing further from the truth. italki offers much more, and that includes language exchange opportunities.
italki hosts an international community of language learners looking to practice their target languages with native speakers. If you haven't checked it out, now's the time!
Meetup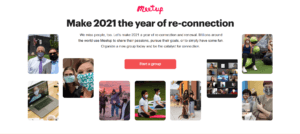 This is not a language site/app per se, but you can find language groups in it nonetheless. Unlike the other sites and apps we mentioned above, the purpose of Meetup is to connect people by organizing face-to-face events based on their interests/hobbies. Languages are one of the most popular categories.
The good thing about language meetups is that most people are serious about learning, not to mention it's a good opportunity to make some friends. You can eventually share phone numbers or social media and keep in touch outside of the official events.
Miscellaneous Sites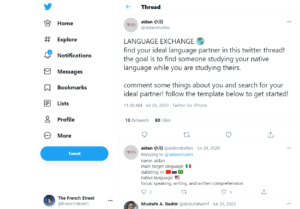 Just as you can find a language exchange partner on Facebook, you can do so too on Twitter, for example. I've seen threads where people look for someone to practice with.
You can also engage with others in YouTube comments. You can reply to their comments or start a thread yourself, and someone might be interested in contacting you. It's a long shot but still worth a try.
Last but not least, you can try forums like Reddit or Quora. Millions of people visit those sites every day. Who knows? You might find someone interested right there. Don't discard this possibility.
A Few Tips
To make the most out of your language exchange experience, I recommend the following:
Find someone around your age. It's more likely you will share interests, and the conversation will just flow. It may be complicated to talk to someone way younger or older than you.
Be careful with your personal information. Do not share your phone number or social media right away. Get to know the other person first.
Be clear about your intentions. Many people use language sites/apps to flirt with the opposite sex. If you're not looking for that, let them know about it. Don't yield to anything that makes you feel uncomfortable. If the other person insists, stop all contact and report that person so they ban him/her.
Try to decide on a basic structure for your sessions. How often will you meet? How long will your sessions be? Will you talk about anything in particular? Will you correct the other person each time he makes a mistake?
If you don't know what to talk about, look for a few lesson plans online. There are many of them to choose from.
When looking for someone, contact as many people as possible. Not everyone will get back to you. Many will not even reply to your message. It's not always easy to find the right person. It's unfortunate, but it is what it is.
Be considerate. If for some reason you will be late or can't make it to your session, let the other person know in advance and reschedule if necessary.
Only meet in public places when meeting face to face. Also, don't forget to let someone you trust know where you will be. Better safe than sorry.
Are Language Exchanges Worth It?
Why, yes! You may have heard horror stories about them, but they're definitely something you should try. Your experience may differ from that of others, but you won't know it if you never try.
As I mentioned earlier, language exchanges do not replace formal instruction. However, that does not mean you should avoid them. In fact, they're a good way to complement and practice what you learned with your teacher.
Final Thoughts
Finding a language exchange partner is not always easy, but it's not impossible. There are many resources available at our fingertips. It's just a matter of looking.
Each site/app has its pros and cons. I recommend you try them all and decide which one works best for you. With the right mindset, you will succeed if you're serious about learning.
I hope you found this useful. As always, feel free to leave your questions and comments in the section below, and I will get back to you as soon as possible. Au revoir, les amis!