There are many online resources to learn French. The list of options is longer than ever, but the question remains, "Which one is the best option?" Choosing just one platform is an overwhelming task. Is it suitable for all levels? Does it have good teachers? What do others have to say about it?
Don't worry. We've got your back. Today I'll share with you one of my secrets. In my Français avec Pierre review, I will tell you why it's one of the best options out there to learn French. I will share my impressions about it as well as the good and bad things so you can make a decision in the end. Are you ready? C'est parti!
Overview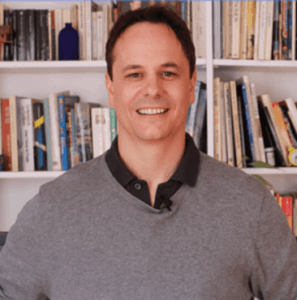 Français avec Pierre was created by Pierre Babon, a guy from Bordeaux. He lives in Madrid with his wife, Noemi, and his three children. He started his own company in 2017 but had been teaching French many years before that.
Pierre has extensive experience in FLE (Français langue étrangère = French as a second language), teaching high school students, test preparation, and creation of business and school French courses.
He started Français avec Pierre as a side project, but like many of us, decided to go full time after some time. He is very active on YouTube and social media where he shares French-related content about different topics.
Unlike Johan from Français Authentique, Pierre is a teacher by trade, and that shows. He has a more academic approach, but that doesn't mean his lessons are boring. Actually, he's very creative and makes his lessons in such a way that they're easy and fun to follow.
Starting Out
Français avec Pierre works on 9 principles:
Fun, motivation, and support from a community.
Learn in the target language.
Both theory and practice are important.
The teacher.
Listening.
Expressing yourself.
Follow-up and correction of mistakes.
Openness and diversity.
The new technologies.
Pierre knows his game. He has adapted his expertise to our modern times by using technology to create a ton of professional courses and a worldwide community of French learners, always keeping his personal touch in all his projects.
Don't know where to start? Take the assessment quiz to determine your French level!
The Blog
Pierre has a blog where he covers many French-related topics. Of course, you can find resources to improve your vocabulary, grammar, and pronunciation, but you can also find podcasts, stories, recipes, and conversations about different topics like culture and travel.
Each lesson comes with a video. You can activate the English subtitles if you find French too hard, but don't make it a habit.
Additionally, if you're an Academy member, you will also have access to the video transcript and some exercises to apply what you just learned. More on the Academy later.
If you'd like to test your knowledge, there's a section with some quizzes and dictations. They're really useful, so I recommend you check them out.
Pierre and Noemi also give some excellent recommendations for all French learners. Oh, there's also a special section for beginners that comes with videos, podcasts, dialogs, and transcripts. It's great for all those starting in French.
Free Courses
Pierre offers two free courses: one for beginners and one for intermediate/advanced learners.
The beginner course consists of ten lessons. The topics include the alphabet, sounds, vocabulary, introductions, among others. Each lesson comes with a video, a pdf file (with the transcript), and two audio files. You can download the pdf and audio files to practice as much as you want.
The intermediate course consists of only five lessons. Each lesson comes with a video, the transcript, and some exercises to test your knowledge.
Whatever course you choose, you will receive one lesson daily by email. But don't worry. You can check them out whenever you want. You don't lose access once you're done with them.
Paid Courses
Although the free courses are very good, they're just starting points. If you want to step up your game, you have to study something more advanced. That's where the paid courses kick in. They fall under several categories:
General learning. Good for those just looking to get to an advanced level.
Test preparation. Good for those who want to get a good score on their DALF (Diplôme approfondi de langue française) or DELF (Diplôme d'études en langue française).
Specific courses. Good for those looking to focus on a particular topic like pronunciation or verb conjugation.
Courses for Spanish speakers. Good for native Spanish speakers who feel more comfortable learning French in their native language.
Each course includes interactive material that can be accessed on your computer, tablet, or smartphone. You will have access to tons of videos (with subtitles in English, Spanish, and other languages), pdf files, interactive exercises and quizzes, and lifetime access to an account on francaisavecpierre.com. Additionally, you can get an official diploma upon course completion.
The prices range between 69.00€ ($83.71) and 119.00€ ($144.37) depending on the course you choose.
Each course includes a 30-day money-back guarantee. If you're not satisfied with your course, you can request a refund within 30 days of purchase. No questions asked!
You can also get a good discount if you buy courses in bulk. Pierre gives a 10%-30% discount when you buy more than two courses. But that's not all. You can get an ADDITIONAL 30% off by using my promo code FRANCE43H when checking out. Save up to 60% on your total purchase!!!
L'Académie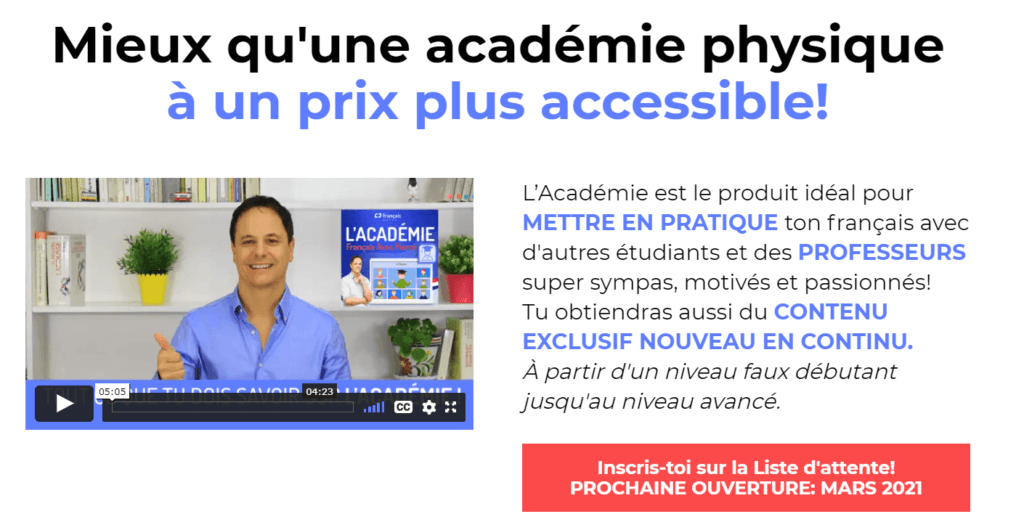 Pierre also created a worldwide community of French learners where they can interact with each other. You will have access to exclusive content, videoconferences, Facebook/Telegram private groups, special sessions with Pierre and his team of qualified teachers, and much more!
The content is updated regularly, and you can offer suggestions for future material.
Open enrollment is currently closed. You will have to join the waiting list for March 2021. If I'm not mistaken, open enrollment is only available three or four times a year.
The monthly membership costs 49.00€ ($59.45), but you can save some money by getting the yearly membership instead. In this case, you would pay 492.00€ ($596.91) or 41.00€ ($49.74) per month. Accepted payment methods include credit cards and PayPal.
Other Resources
As I mentioned earlier, Pierre has a YouTube channel where he uploads content every week. For your convenience, he provides a written summary of the main points covered in each video.
If you're on the go, you can listen to his podcast. It's basically his videos in audio format. You can access this content via Spotify or iTunes. I love listening to them while sitting in traffic.
Last but not least, I recommend you follow Pierre on social media. He is active on Facebook, Twitter, and Instagram. You can find short clips and visuals about various topics in French. Great for those days when you don't have much time to study.
All of these resources are FREE. You can access them by clicking on the icons at the very top of the page.
Who is Français avec Pierre for?
Glad you asked. Short answer, everyone. Long answer:
Absolute beginners.
Those who prefer an academic approach with a fun twist.
Those who need to get an official diploma.
Those who want to brush up their French.
Those who want a comprehensive but affordable course.
Those looking for an experienced teacher.
Those who would like to connect with other French learners all over the world.
Those who are comfortable with the new technologies.
Pros
Let's take a look at the good points:
Pierre is a teacher by trade with lots of experience in teaching and creating French courses. His team only includes qualified teachers as well. They're not just native French speakers. They're real teachers.
His program is excellent for all levels, including absolute beginners.
He only speaks French in his videos (except for the French for Spanish speakers course), but you can access subtitles in several languages if you prefer to do so.
He covers a wide array of topics in a fun way.
All of his courses are well-thought and well-made and include lots of learning resources like videos, text files, audio files, exercises, and quizzes.
Lots of free resources for those who don't want to or can't buy a course.
He is very active on YouTube and social media.
Cons
Honestly, there is little I can mention here. If anything, my complaints have to do with l'Académie, mainly:
Enrollment is not available all year long.
No one-on-one instruction.
The membership is more expensive than other similar options. Compare Français Authentique at 24,00 € ($29.12) per month.
Other than that, it's an excellent option for anyone interested in learning or perfecting his French. I think the pros outweigh the cons by far.
Final Thoughts
If I were to recommend just one platform to learn French, it would be Français avec Pierre. Pierre knows what's he's doing, and that clearly shows. He created an excellent platform with lots of content for all kinds of learners, no matter their level.
What I like is that I feel like I'm learning French at a school without going to one. Pierre's approach is academic but fun and casual at the same time. You don't get bored at all.
The courses are well-priced. The academy is a little more expensive than other similar options, but in my opinion, it's well worth it. You get good value for your money.
My score for Français avec Pierre is 10/10. I highly recommend it to anyone interested in the French language and culture.
Well, that's all for today. I hope you found this review useful. Let me know if you have any questions, and I'll be more than glad to help. Au revoir, les amis!